Epson Eco Tank 3710 Vs 3760 – Epson Eco Tank printers are meant to be low in their printing costs as they have the super tank, which makes the cost per print much lower than the other ones. Epson printers are also well-known for their high-quality printing and easy connectivity.
In this article, we will be discussing the pros and cons of the Epson Eco Tank 3710 and 3760 and will try to find out if there are any differences between them. So let's start our Epson Eco Tank 3710 Vs 3760 comparison.
The major difference between the Epson 3710 and 3760
The primary difference between the Epson ET 3710 and its sibling Epson Eco Tank 3760 is, that ET 3710 lacks an auto document feeder, which makes the printing experience much smoother. The Epson ET 3710 is a bit smaller and lighter in weight than the Epson ET 3760.
Epson Eco Tank 3710 Vs 3760 Comparison in Detail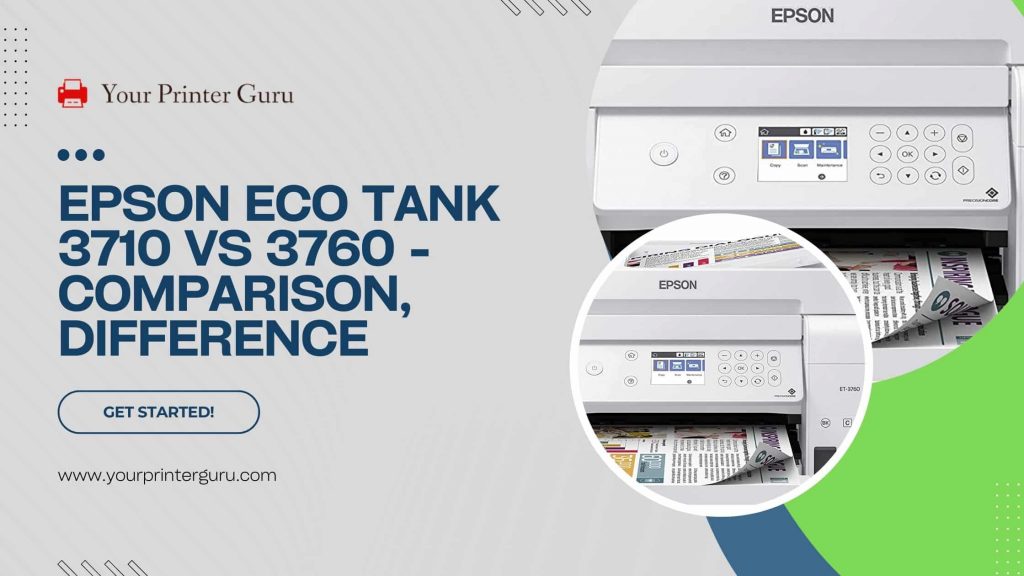 Design and Build Quality
Both the Epson Eco Tank 3710 and 3760 have impressive design and excellent build quality. The Epson ET 3710 has a 2.4-inch color display with a white body. The printer also has duplex printing and scanning capabilities, along with both wired and wireless networking.
Like many other printers, it also comes with a two-year warranty, and the voice command is stunning. The most useful feature is that the printer has low running costs and a good sheet capacity.
On the other hand, the Epson ET 3760 comes with a plastic body with visible ink levels. It has an auto document feeder which feels much thinner and also the scanner lid can be easily accessed.
It has a 2.4-inch display but no touch screen. It also has many physical buttons on the front and back of the device. Although the menu is simple to use, entering comments can cause significant lag. However, the display screen can tilt and is visible from all sides.
Printing Quality and Speed
In terms of printing quality and speed, the Epson Eco Tank printers prove to be great. The Epson 3710 has decent printing quality with a 5000-page monthly duty cycle.
despite the fact that both printers have nearly the same duty cycle, the Epson 3710 is well shaped and formed accurately, producing attractive texts with rivaling laser quality. It can produce dark backgrounds with nice graphics. It delivers the prints with a speed of 15ppm ( black) and 8ppm ( color).
The Epson ET 3760 also has a good speed of printing and moderate quality. The colour accuracy is not very good and most of the colours are more inaccurate than the original ones.
The printer produces a few different shades of grey, but the transitions are smooth in both black and white documents, and the borderless prints look stunning.
The colour documents take much more time than the black and white ones. It can print with a speed of 15ppm ( black) and 7ppm ( color). Additionally, the auto duplex printing helps to run the printing process more smoothly.
Scanning and Copying
Both Epson printers have decent scanning features with good speed. The Epson 3710 has CIS technology to scan documents with a resolution of 12002400 DPI. It has good copying speed along with good graphics. The printer can copy up to 99 copies at a speed of 11 CPM ( black) and 5.5 CPM ( color).
The Epson 3760 has a good flatbed scanner, which is perfect for the fragile family, and it also has a 30-sheet auto document feeder to process the documents more quickly. Sadly, there is no duplex scanning, so in the case of double-sided documents, you need to scan them manually. It has a scanning speed of 5ppm ( black and white) along with a copying facility.
Page Yields and Printing Costs
The Epson printers come with great printing costs and a good number of page yields. The Epson 3710 doesn't use ink cartridges, so the prints are quite economical compared to the other cartridge-based printers.
It has good printing quality on both the black and colour pages. The box contains sufficient ink to print almost up to 6500 black pages or 6000 colour pages (almost 2 years' worth of ink if frequently used). It has a decent printing cost, i.e., it delivers prints for 0.3 cents per page (black) and 0.9 cents per page (color).
On the other hand, the Epson 3760 has a super tank ink system which has four high-capacity ink tanks like the Epson 3710, and that holds a lot of ink and can be refilled by itself. As they are huge, the number of page yields is also high.
You can also use third-party ink cartridges to make the printer yield more and more pages. It has a page yield of 362 pages (black) and 198 pages (color). It has an extremely low cost per page of 0.003 US per page (black) and 0.009 US per page (color).
Connectivity Features
Epson has good connectivity features with various options. The Epson Eco Tank 3710 and 3760 come with great connectivity options in both wired and wireless support. The Epson 3710 has Ethernet, USB, Wi-Fi, Wi-Fi Direct, etc.
Also, it can be used via Apple Air Print and Morphia Print Service. Also, the Epson app will help to manage all the tasks of printing, scanning, and copying. The Epson 3760 has the same connectivity options as the Epson 3710, but sadly, in both the printers, Bluetooth and external storage are absent.
Conclusion
Both the Epson Eco Tank printers are good in their performance and print quality. The Epson 3710 and 3760 have low running costs, good connectivity, two years of warranty with registration, etc. Though choosing one of them will be quite difficult, the requirements will definitely pave the way while making the decision.
If you need a printer with an automatic document feeder, go for Epson Eco Tank 3760 without any hesitation. Epson Eco Tank 3710 would be fine too if you can live with an automatic document feeder (ADF).