All-in-one printers are the most needed printer nowadays. It is the one-stop solution for all the technical problems you face. Well, it's not all solutions but they serve many of the input and output functions.
They can not only print documents but also copy, scan, send and receive faxes, etc. which makes them the most important and worthy investment device to run a business as well as household needs.
The HP Envy 6055 offers solid design, good print quality, and affordability, making it suitable for basic tasks. In contrast, the HP Envy 6455 boasts an adjustable input tray, ADF for scanning, mobile fax support, and better scanning resolution, catering to office needs and unique features.
Let's compare the two most user-friendly multi functional printers i.e. HP ENVY 6055 and HP ENVY 6455 in detail.
Hp Envy 6055 vs 6455 Detailed Comparison
| Features | HP Envy 6055 | HP Envy 6455 |
| --- | --- | --- |
| Design and Build Quality | – Plastic body with solid design | – Plastic body with adjustable input tray |
| | – Audio feedback for task completion | – LED buttons for tasks |
| | – Flatbed scanner access for jams | – Flatbed scanner and ADF for scanning |
| Printing Quality & Speed | – Good print quality, slow speed | – Decent print quality, slower speed |
| | – Duplex printing for both sides | – Color accuracy, sub-par color gamut |
| Scanning and Copying | – Flatbed scanner with limited hinges | – ADF and flatbed scanner, OCR technology |
| | – Single input tray for common sizes | – High scanning resolution options |
| Printing Costs & Yields | – Affordable cartridges, low page yields | – Third-party cartridges, low page yields |
| | – Instant Ink subscription available | – Higher cost per print, Instant Ink |
| Connectivity Features | – USB, Wi-Fi, HP Smart app | – Mobile fax support via HP Smart app |
| | – No Ethernet, SD card, or USB support | – HP Smart app features for maintenance |
| Conclusion | – Reasonable for basic printing tasks | – Unique features, mobile fax support |
| | – Affordable purchase | – Suitable for office/business use |
| PRICE | CHECK OFFER PRICE ON AMAZON | CHECK OFFER PRICE ON AMAZON |
Hp Envy 6055 vs 6455 Key Difference
Now have a look at the detailed comparison between Hp Envy 6055 and Hp Envy 6455. The differences mentioned below will surely help you decide which one to go for.
Design and build quality
Hp always maintains the design and quality with due responsibility. These two Hp all- in- one printers also have quite good designs with plastic bodies.
The Hp envy 6055 has a solid body, a slider in the input tray to adjust it according to the photo size, a removable power cable (in case you need to replace it), and many more.
It also has a flatbed scanner, by which one could easily access the paper jam by lifting it. But sadly the lid doesn't hinge enough to accommodate thick magazines or books. Most interestingly, the printer has audio feedback, it will inform when the task is finished.
Well, it doesn't have a display screen, though there are five touch buttons, that light up with different colors, which will. Allow you to proceed with different tasks.
There is also no display to watch the number of copies when you need to scan. Whereas it has many indicator lights to notify whether there is a need for ink or paper.
On the other hand, the HP ENVY 6455 also has a plastic body, a removable power cable, and the input tray, which has width sliders for adjusting the size of the papers.
Unfortunately, the cartridge bay doesn't have the slow close dampener, so the lid will slam shut unless you guide it down slowly. As the flatbed scanner lid doesn't have any extendable hinges, so one can't scan thicker items.
Hp envy 6455 also doesn't have any display screen but has buttons with led lights which will help you to run different commands like print scan and copy. One can adjust the brightness of lights with the help of the HP smart app, but it can't be turned off completely.
Printing quality and speed
Printing quality and speed is one of the most important aspects of any printer. Hp envy 6055 and HP envy 6455 t has really good printing quality with well-defined color and lots of detailing but they both are slow in printing.
However, the tones of Hp 6055 are quite flat, and black isn't deep enough but all over it's good. The duplex printing will help a lot to scan both sides of the pages.
Although the color accuracy is not up to the mark, it generally creates brightly saturated colors, which may be not a good choice for professionals.
Well, the speed of HP envy 6455 is quite slow in the black and color documents. The speed is 9 ppm( black) and 4 ppm(color). The output tray can hold up to 25 sheets of paper at once.
The HP Envy 6455 has a decent print quality with color accuracy. Though it lacks the auto documents feeder, it has a flatbed scanner. The tones seem a little faded with dusky black. It is color gamut is sub-par.
The printer struggles to bring out the saturated colors. Although, the transitions of colors are not smooth enough. It also has a bad printing speed of 6 ppm (black) and 4 ppm(color).
Scanning and copying
Apart from printing facilities, the HP Printers have a great scanning capacity too.
The HP ENVY 6055 has a bit disappointing scanning feature, there is only a flatbed scanner, which lid doesn't hinge much so one can't scan thicker items.
It has only one input tray which supports common paper size. The good side is that one can save the scanned documents and search the PDF files whenever needed.
Whereas the HP envy 6455 has a moderate scanning feature. It has both an auto
document feeder and a flatbed scanner, so one can easily scan the pages. It also has OCR technology, from which one can easily search the saved document files. The default scanning resolution is 300 DPI. However one can set the maximum resolution to get the best results.
Printing costs and page yields
Printing cost and page yields are the most crucial matter to look after before purchasing a printer. Both the printer i.e. HP ENVY 6055 and HP ENVY 6455 have a disappointing cartridge system and both the black and color cartridge doesn't last much longer.
In the case of HP ENVY 6055, the cartridges are cheap but as they don't last long, one has to buy them often. The cost per print is 0.124 US $ per print( black) and 0.261 US $ per print ( color).
But by signing up for an HP Instant Ink subscription one can easily get new ink once they are finished. The page yields are 129 prints (black) and 65 prints (color).
The HP ENVY 6455 also has a bad cartridge system. This printer allows to print with third-party cartridges but it can void the warranty. As the page yields are low, so one needs to buy new cartridges often to print a lot.
The page yields 124 prints (black) and 62 prints (color). Like HP ENVY 6055 you can also subscribe to Hp instant ink which will send the cartridges whenever you are running out of them. The cost per print is much higher than HP ENVY 6055, i.e. 0.129 US $ per print (black) and 0.274 US $ per print (color).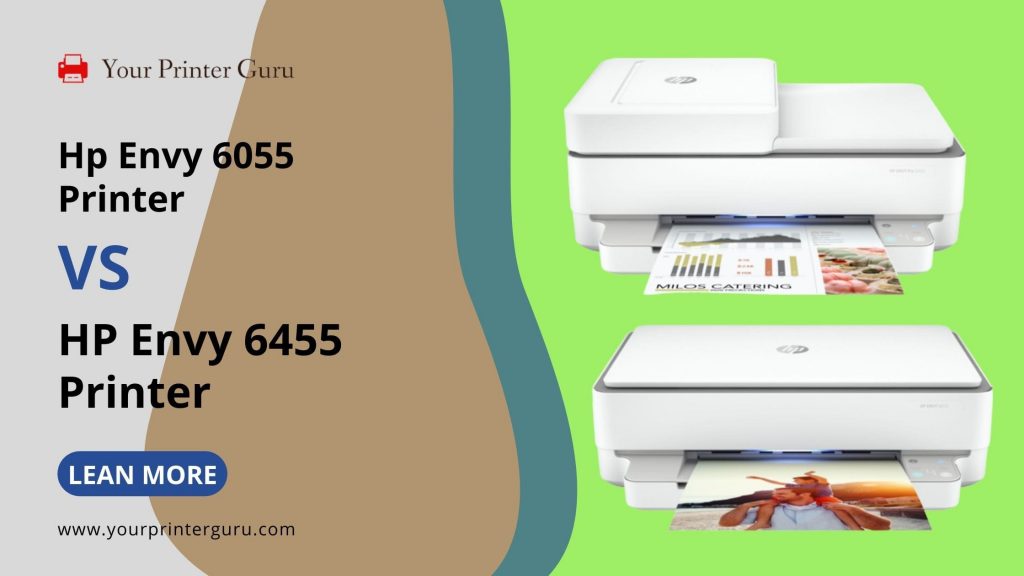 Connectivity features
Gone are the dull days when one needs to wait for the complex configuration and a standby computer for printing. These two HP entry-level printers are really good in their connectivity features. Both the HP ENVY 6055 and 6455 are compatible with HP smart app.
The HP ENVY 6055 has great connectivity options of connecting it to your computer by wire through a USB connection or wirelessly through Wi-Fi. But unfortunately, it doesn't support Ethernet or can't print from an SD card or USB.
You can easily print, scan and copy through the HP Smart app. One can also scan the documents on the device camera and print photos as well as PDF files.
The HP ENVY 6455 also has the same but it has mobile fax support which HP ENVY 6455 lacks. While one can use the Hp smart app to operate all the functions via the app like aligning and cleaning print heads, ordering new cartridges, etc.
Also Check- HP Envy 6055 vs 6055e Comparison
Conclusion– Hp Envy 6055 vs 6455
Well, to conclude according to print speed, cost per print, and especially the auto document feeder and mobile fax support, The HP ENVY 6455 stands out to be unique.
Through the HP smart app, HP Envy 6455 can access mobile faxing, a great feature that proves it much more efficient and useful for office or business purposes.
But for one who is looking for printing assignments, a few clicks, or good graphics, the HP ENVY 6055 can be their choice due to the reasonable and more pocket-friendly purchase.