The Hp office jet printers are well known as the home version printers, they are compact in size and better in performance. The Hp office jet 8022 and 8025 are the two printers which we are going to discuss in the following article. Let's elaborate on the specifications and see their pros and cons accordingly.
Difference between Hp Office Jet 8022 Vs 8025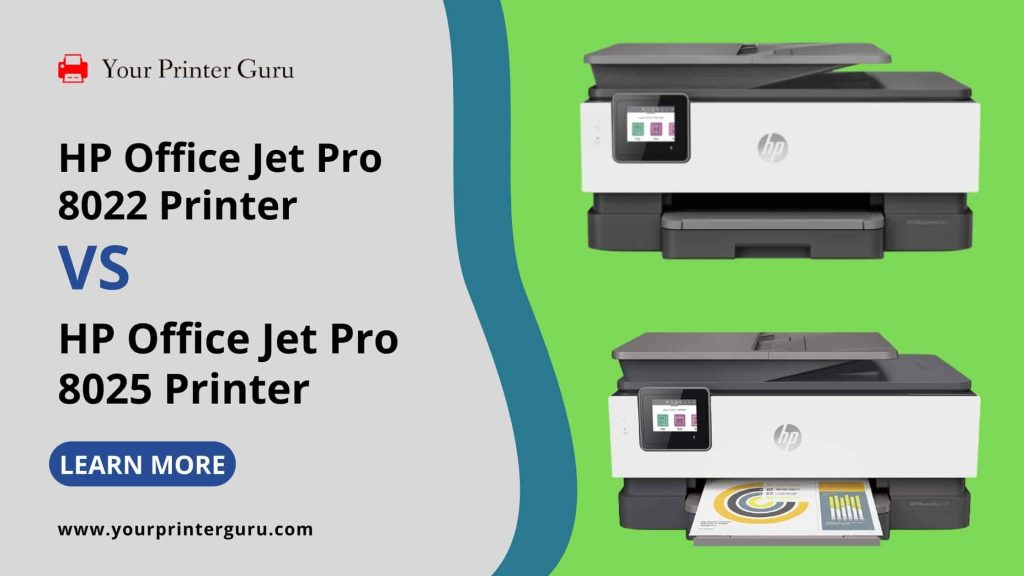 Design and Build Quality
Both the inkjet printers are pretty good in their design and best fit for small office environments. The hp office jet 8022 has a grey color body with a large display of a 2.65-inch touch screen which makes the printer more accessible and the buttons are very well performing. The presence of ADF makes the printer more productive and fast.
On the other hand, the Hp office jet pro 8025e also has a 2.7-inch touch display with a plastic body. The three touch-sensitive buttons help to interrogate the printer tasks, they are BACK, HOME and HELP. The scanner lid raises much to fit the thick items. But sadly the ink cartridges are not to be reached very often unless it's finished.
Printing Speed and Quality
In terms of printing quality, the Hp office jet pro 8022 performs pretty well. The prints are slightly de-saturated as compared to the hp office jet 8025. But it is better at mixed text printings and color documents.
The text appears to be nicely printed and dark in color. It can print up to 1200×1200 DPI and has a rich 225 sheet paper fray along with a 35 sheet auto document feeder to enrich the printing feature. It has a speed of 20ppm (mono) and 10ppm (color) which is nice.
Coming to the Hp office jet 8025, it also delivers bright color contrasting photos with lots of details. But in some areas, there is the presence of graininess and it may become the cause of losing their originality. In the case of large number printing, the formats can be better accordingly. It has a speed of 18ppm (black) and 6ppm (color).
Scanning Features
The Hp office jet 8022 has a flatbed and auto document feeder to scan. The ADF has a 35-sheet accommodation and it scans in CIS technology with the max resolution of 1200 DPI. But peculiarly, the printer will not allow scanning images at a resolution up to 600 DPI.
It has a scanning speed of 8ppm (black) and 3.5ppm (color). Also, it has a great copying speed of 29cpm and can copy up to 99 pages with a max resolution of 600 DPI.
The Hp office jet 8025 comes with both ADF and flatbed scanner and the scanner lid can hinge much to fit thick items. It has the default scanning resolution of 300 DPI but the flatbed scanner can scan up to 1200 DPI with decent detailing. It has the 35-sheet ADF feature and a scanning speed of 8ppm (black) and 3.4ppm (color).
Printing Cost and Page Yields
Both the printers are very user-friendly as well as pocket friendly in many aspects as they have decent page yields and cost per print. The Hp office jet 8022 has a good page count of almost up to 20000 pages per month and the handy mobile app helps to let you print easily.
It uses four individual color cartridges of cyan magenta black and yellow so there are no chances of running out. Based on the cartridge system the cost per print is also fair i.e. 0.51 cents per page (black) and 1.1 cents per page (color).
The hp office jet 8025 has passable black page yields and the cartridge system is also not good. Users can sign to the Hp ink subscription to get instant ink whenever it gets finished. The printer yields 256 pages (black) and 233pages (color) and costs 0.74 US $ per page print (black) and 0.150 US $ per page print (color).
Connectivity Features
Both the printer has plenty of connectivity options. The Hp Office jet pro cones with Ethernet, USB, and Wi-Fi, and the Hp app helps to run the day-to-day work more easily with due accuracy.
The Hp office jet 8025 also has Wi-Fi, Wi-Fi Direct, and Ethernet to connect with. And the Hp smart app is there to print scan and copy documents more easily.
Conclusion– Hp office jet 8022 Vs 8025
Both the all-in-one Hp printers are great in their design, performance, and connectivity options. But the Hp office jet 8023 stands out to be a better choice as the cost per print is much lower than the Hp office jet 8025, the better page yields, well connectivity options make the Hp office jet 8022 more appealing than the Hp office jet 8025.