Although laser printers are preferred in many places, some other businesses prefer inkjet printers more than that. Inkjet printers have many advantages as well as disadvantages, so you should learn the basics before purchasing one. In this article, we're going to list the pros and cons of inkjet printers. Let's make it more precise by pointing out and explaining them serially.
Printers have become the most crucial part of our lives nowadays. Countless online documents need to be printed for business purposes. An inkjet printer might be the best option as it works by expelling numerous ink droplets onto the paper. There are different kinds of inkjet printers that need to be appreciated for their splendid performance. It works as a multifunction device that scans documents, prints soft copies, and copies them as well. They use cartridges containing ink for the process of printing.
Pros and Cons of Inkjet Printers In Detail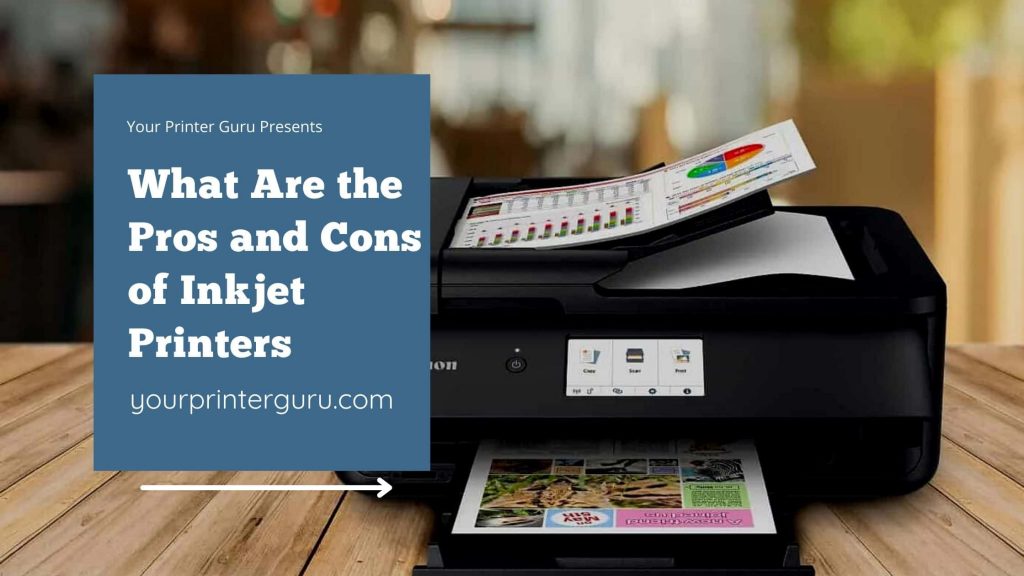 Advantages of Inkjet Printers
1. Affordable cost
The initial cost of an inkjet printer is relatively low. The most surprising fact is that the lowest-priced inkjet printers are genuinely able to print images with great quality and accuracy. In fact, multi-functional inkjet printers cost much less than laser printers of almost the same capacity.
For those customers who are worried about price, the inkjet printer will be the best choice for them. although various office-related tasks can also be completed quickly with inkjet printers. As a result, the inkjet printer is very valuable because employees can increase their productivity and help their company grow economically.
2. Superiority
Since the ink technology is used behind the inkjet printer, the cartridges are basically known to be highly pigmented. The ink cartridges are capable of providing high-quality printing outputs for images and texts. To be more precise, it has fine detailing and smooth printing, and they truly need to be recommended as a high-resolution printer.
3. Setup time
The inkjet printers don't need much time to warm up. In other words, the printer does not require preheating to start the printing tasks. As the printer is switched on, it can start printing instantly.
4. Compact design
Compared to laser printers, inkjet printers fit in a compact space and make the workplace more organized. Although the advanced version requires less space, in case of a shortage of space, inkjet printers will be a great option for those.
5. Convenient Device
Inkjet printers are significantly lighter and easier to set up. These criteria make the device super portable and handy for home and office working environments. although they can be easily moved around different places as per their needs.
6. Noiseless
The good thing about the inkjet printer is that it doesn't cause any distraction to the other work happening in the environment by making loud noises. The printers are acutely quiet while working. To be more precise, it is quieter than the Dot Matrix printers. Hence, this printer will not interfere with business productivity.
Drawbacks of Inkjet Printers
1. Slower Speed
Because inkjet printers are specifically designed to produce low-volume prints, they frequently exhibit slow speed issues. In the case of large printed documents, one has to keep patience for a long time to get it done. The speed gets even worse while printing the colored documents.
2. Longevity
As mentioned earlier, inkjet printers are basically not designed to print high-volume printing. To be honest, inkjet printers are not very durable and the print heads that are present on the printer are prone to damage. In the event that an individual part fails, it will be more beneficial if someone buys a new one rather than changes the damaged part because the spare parts are too costly.
3. Conservation
The most common problem with inkjet printers is that they face frequent ink clogging. Although the printers are equipped with auto maintenance cycles, the cartridges must be replaced more frequently. It can be seen that many companies do the cartridge refilling process except replace them. The task still takes a huge amount of time.
4. Expensive Cartridges
Even though the all-over cost is quite reasonable, over time the expense can get higher as the cartridges are not much cheaper in price. This is genuinely true in the case of inkjet printers, and as they need frequent replacements, the total cost gets increased significantly. Sometimes it exceeds more than the printer costs itself.
5. Messed up
The ink type which is used behind the ink system of an Inkjet printer is known as "Aqueous Ink".  The ink is basically highly water sensitive which means that it needs some more time to get it dry out. If accidentally any water contact happens before the complete drying process it will create smudges on the paper.
6. Effect of bleeding
An inkjet printer can create bleeding effects on the prints if there is any kind of ink spill, i.e., if the ink is carried sideways. The capillary action will be that the ink will divert from the place it should be and it will get printed. One thing should be kept in mind in this type of document, no highlighter can be used as a mark.
Pros and Cons of Inkjet Printers in Short
Pros
Affordable cost.
Compact Design.
Mostly noiseless.
High-Quality Printing.
Lees setup time.
Cons
Speed is slower.
Effect of bleeding.
Expensive Cartridges.
Our Verdict- Are Inkjet Printers Worth It
So these are the advantages and disadvantages of the inkjet printer. I hope this article will help you a lot to gather basic information before buying a printer. An inkjet printer, on the other hand, can be a good option for home printing and small business.