Wireless printers are now leading the way of printing. These printers are able to be connected to multiple devices. They can save both your money and time and also allow you to keep working while you are moving.
We should be grateful to the wireless technology that allows us to connect the printers to smartphone, laptop, tablet, computer, and other devices – anytime and anywhere.
There are so many brands that manufacture different types of printers with different connectivity options. Nowadays, almost every printer manufacturing brand is producing printers with wireless connectivity options.
Canon is not an exception of it. This brand is also manufacturing printers that are capable of being connected to your computer or laptop through WiFi. In this article, we are going to helping you out in connecting your Canon printer to wifi. So keep reading!
Detailed Guide to Connect Your Canon Printers to Wifi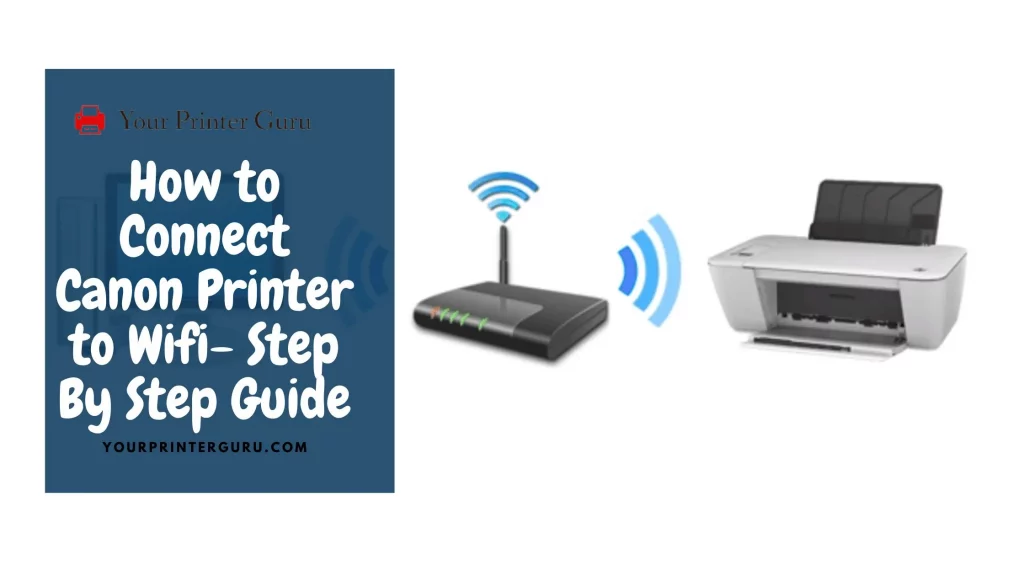 Important Factors for Wireless Connection
If you have bought a new Canon printer, but are not able to connect the printer to wifi, do follow the steps we are going to telling. But before that, we will tell you some general factors that are important for setting up a wireless connection.
If you want to connect Canon printer to wifi, you must have a wireless router which will connect the printer to the internet. The router is the medium of communication between your printer and your home network.
You must have a computer or a laptop that you will use with your printer. Also, you have to make sure that the computer or laptop is connected to the network.
Your printer must have an LCD display screen that is very helpful for connecting a Canon printer to wifi. Because the LCD display screen displays various options regarding the connectivity so you can easily find and select the suitable options.
Lastly, and most importantly, your printer must have a built – in wifi adaptor or a wired network connection port so that you can connect it to a network.
How to Connect Canon Printer to Wifi
When you go to connect your Canon printer to wifi, the first thing you have to keep in mind that your printer must be turned on. Then you have to follow the following steps:
After turning on the printer, you have to press the "Setup" button on the printer.
Then you have to select "Wireless LAN Setup".
Then press the "OK" button.
After that, you have to select the "Other Setup" option.
Then again an "OK" will pop up and you have to press it.
Now you can see the option "Cableless Setup".
So press the "OK" button.
Finally your Canon printer is connected to the wireless LAN connection.
In order to make sure that the Canon printer is now connected to wifi, you have to check the network connectivity status on the screen.
But to complete the process of connecting your Canon printer to wifi in the "Cableless setup" method, you have to go through a few more steps. You must install a software to complete the setup. Here we will show you how to install software:
Firstly, you have to quit all applications before installing the software.
Then you have log on through an administrator account.
You can also use CD – ROM for installing the software.
Then you have to select your details, such as – your region, name of your printer, and your computer operating system.
Now look at the "Product Setup" section and click on the "Download" button to download the setup file.
When downloaded, you have to double click the downloaded .exe file.
Now click on "Next".
Then click on "Wireless LAN Connection", then "Connect via wireless router", and then "Next".
Now click on "Cableless Setup" and then on "Next".
If you are now able to see the Set Completion dialog box on your screen, click on "Complete" and then on "Next".
Now come to the final step. Just click on "Exit" and complete your installation.
Conclusion
If you want to connect your Canon printer to wifi, follow the steps we have mentioned in this article. This is the easiest way to set up the connection. It will help you print from anywhere. It will also help you get prints from various devices at a time.
Just follow the procedure thoroughly and enjoy the advantages of it! If you have any doubt or question, feel free to ask in the comment box below.