Epson vs Brother printers- Epson and Brother printers are the two most well-known brands on the market nowadays. The Epson brand was founded in around 1942 for home and business purposes, whereas the Brother printer came in 1908 and is basically famous for its cost-effective printing and home uses.
So, by knowing the specifications and limitations of each printer, one can easily focus on their needs and can make their choice smartly.
In this article, we will try to make a comparison between these two famous printer brands. Although both are extremely well performed, there are some differences too. So let's find out.
Epson vs Brother Printer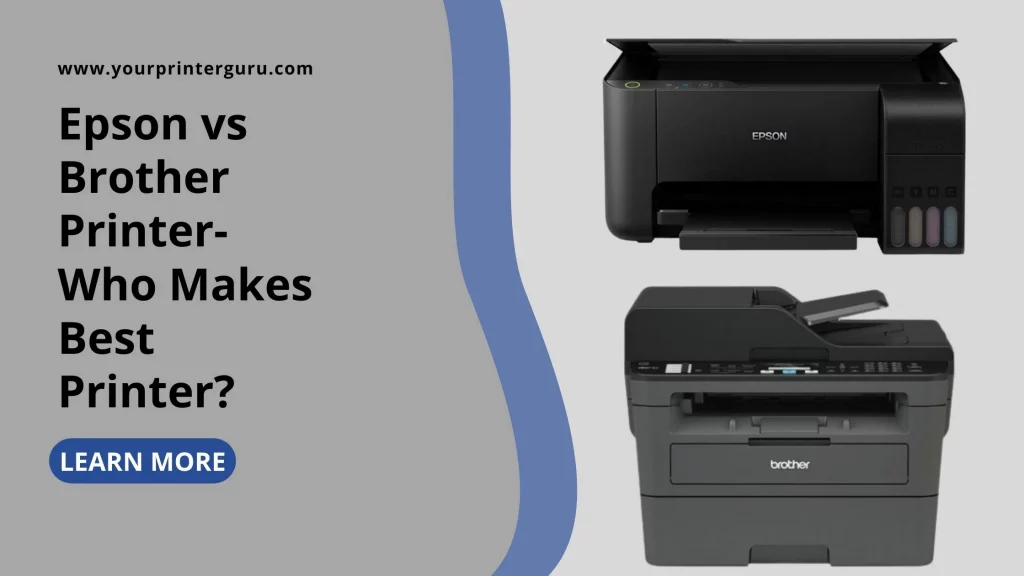 Printing quality
The Epson printers have decent printing quality, producing sharp texts with much detail. In the case of duplex printing, the Epson Workforce printers produce prints with high quality and bright colors. Though the detailing and color may differ between devices.
On the other hand, Brother printers have divided printers into two sections, i.e., monochrome and color printers. Brother printers mainly use laser technology to create texts and graphics, but they are famous for their extremely low cost of printing.
Printing speed
Both printers have low printing costs, and the inks are also very pocket-friendly. The Epson printers deliver cheap prints, and the ink prices are also affordable. The Epson prints very quickly, with a speed of 9.9ppm (text).
On the other hand, since Brother printers are basically laser printers, they tend to be faster than the inkjet ones. It delivers prints within a few seconds, keeping its quality. It had a printing speed of 30ppm( black) and 26ppm (color). Also, the Brother printers are extraordinarily pocket-friendly and have superb build quality.
Printing Costs
Both Epson and Brother have decent printing quality with an economical cost per print. Although the Epson comes first as it has the inkjet system that makes printing very low cost, the Brother printers tend to maintain their quality.
Although Brother printers are laser printers, they are quite economical and try to keep the cost at an affordable range.
Ink costs
Printers need a continuous flow of ink. Both the printers are quite good in their printing quality in monochrome printing and color printing. The Epson printers are basically inkjet printers with a super tank that helps them yield more and more pages at a low cost.
Whereas the Brother printer is a laser printer that produces quality printing with decent printing speed. As Brother printers are laser printers, they can deliver prints as cheap as Epson printers.
Paper handling and capacity
It would be preferable if duplex printing was available when printing two-sided documents in the printer. But in many cases, the quality matters in two-sided printing as it may produce a variation in sharpness.
The Epson printers are quite good at handling all kinds of paper, including A2, A3, and A4. Most Epson models have enough paper capacity to print without frequent refilling. As for the Brother printers, they also have an extremely high capacity of paper handling features.
Unlike Epson printers, the input and output trays hold up to 300 sheets to run the tasks. Some specific Brother printers can hold up to 550 sheets. They also have an auto document feeder, too, to make the printing and scanning procedure smooth.
Performance
Over the years, printers have evolved quite a lot. Both the Epson and Brother printers have also maintained their performance and printing quality. Epson printers are the most dependable when used in an office, and Brother printers are also popular due to their extremely fast delivery and low cost.
The Epson printers have quite a good cost per page and yield a good number of pages. On the other hand, Brother printers deliver a huge number of pages within a few seconds. Some of the fastest Brother printers have a speed of 42ppm.
Connectivity
When it comes to connectivity, both printers perform pretty well. Connectivity makes a printer more demanding and user-friendly. The Epson and Brother printers are equipped with Ethernet, Wi-Fi, USB, built-in Wi-Fi, etc. Some specific Epson printers come with voice printing, which makes them super cool.
Conclusion
In this article, we have covered many points to make a clear comparison between the two printers. While it is difficult to choose between them because they are both excellent for home and office use.
If quality and performance matter, then Epson can be a good choice, but in the case of speed and page yields, Brother printers are the best as they are superb in their printing speed.
Both printers are well designed and have decent build quality, which can make them more convenient for home and office use. Picking one of them completely depends on the users' requirements.