If you are looking for a printer that is pocket friendly and easy to use then the Ink Tank printers are the best approach. But the Ink Tank printers are a bit more expensive than the Inkjet printers while in long and hectic uses Ink Tank printers are very much responsible. Today in this article we will be discussing the two printers i.e. Ink Tank Vs Inkjet and will try to see which one of them is superior. So let's get started.
Inkjet Printers vs Ink Tank Printers Comparison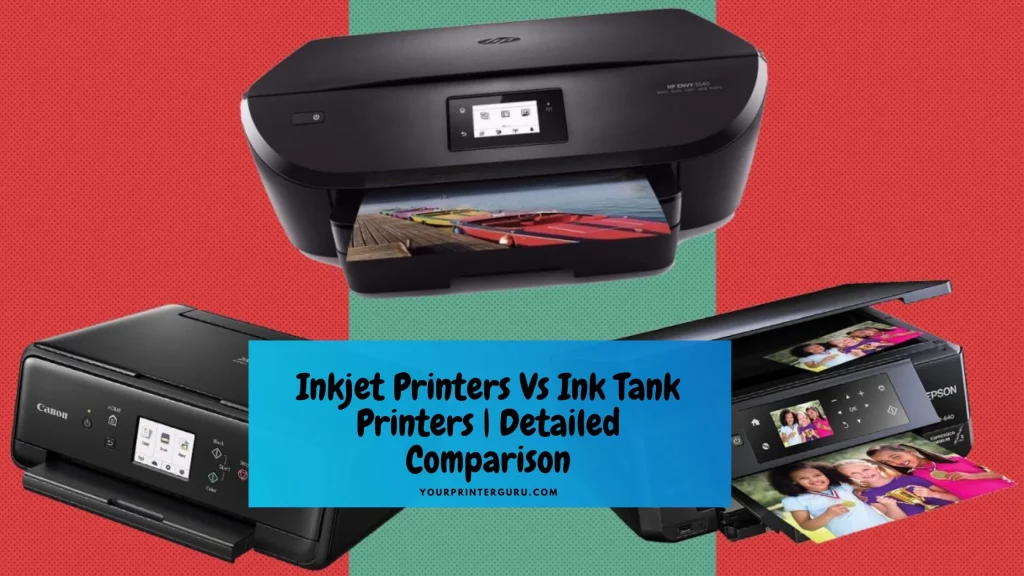 Inkjet Printers
Inkjet printers are printers that create many little dots on paper to print a page. They are large and inexpensive (starting as low as $18), it is also very effective in printing texts and photos but modest inkjet printers can be costly in the long run.
Pros of Inkjet printers
The entry-level inkjet printers are really very pocket friendly.
They use ink cartridges to create a masterpiece print.
The inkjet printers are mostly found in the use of home printings as it is very easy to handle and the setup process is super easy to tackle.
The printer is best for printing less than 100 pages/per month. Also, it creates a light tone so it's better for printing photos rather than text.
The page yield of the printer is approximately 100-120 pages (black and color) per cartridge.
The printer is quite lightweight so it can be a good choice for setting at home or at the office for its compact size and weight.
The printers use high technology in printing which reflects on the printings and also as there is no provision of heating so it will be very much earth-friendly too as it will save more energy.
Cons of Inkjet printers
The print heads of the printers are not much strong and they eventually stop and get damaged very easily.
The Ink cartridges are expensive cases of alternative ones.
The printer is not suitable for high-volume printing.
Inkjet Printers have a comparatively low printing speed of 7-9 pages per minute. So it can't be the right choice for office use.
It has a high running cost per page of $0.085 to $0.12( Black and white pages) and $0.24 ( color pages)
In inkjet printers highlighter cant be used while marking some important parts which is really disappointing.
Ink Tank Printers
Ink Tank printers don't come with print heads like the other ones. These type of printers uses individual shade tanks and a dark ink tank and most importantly the tanks can be moved from the ink bottles and can be delivered directly to the printer through the incorporated Ink Framework. To be precise, these kinds of machines with Ink Tanks are classified as Ink Tank printers. These printers are very good as they have cheap running costs.
Pros of Ink Tank printers
Ink tank printers use refillable inks rather than ink cartridges and mostly it is very much easy to use as compared to others.
As the printers are compact and lightweight, they are ideal for home and office uses.
They have many tanks to fill the inks in the form of liquid. It has an incredible design and builds quality which gives you a decent printing experience.
Mostly the cost per print is significantly low in these printers i.e. around 2 cents (black and white) and 5 cents (color).
The printer also yields a good number of pages. It yields around 7000- 8000 (black and white) and 8000 pages (color) which is really appreciable.
The printing speed is also much fast than the other ones. It has a speed of 10-12 pages per minute( both monochrome and color)
Last but not the least, most importantly Ink tank printers are inexpensive compared to others. The price range starts from $96 rather the other ones start from $114.
Cons of Ink Tank printers
The major drawback of these Inkjetprintersare in case of being unused for some days the cartridge and cylinder get evaporated and they will create major issues in the machine later. In that case, a Laser printer can be the best option for use.
The ink tanks are set outside of some Ink Tank printers which look much bulkier but now the other brands rectified it and set the tank inside which marks the appearance of the printer as more sleek and compact.
The printer prints dark texts much slower as compared to others.
Conclusion
To conclude it can be stated that, Inkjet printers are cheaper but the cost per page is the main culprit here for making it costlier. So it will be a complete waste of money if a printer doesn't have decent printing costs and where the printing cost is more than taking out a print from the nearest Computer cafe.
Whereas the Ink tank printers have their own hearts due to their suitable budget as it starts from a very mediocre range which one can easily afford. Also, the Ink tank printers come with a low cost per page, less maintenance, and awesome page yield. So as discussed throughout the article Ink Tank printers have the upper hand to surpass Inkjet printers and the rest is up to the buyers.