Epson P700 vs P900- The series of Epson Sure colors delivers professional printing with splendid performance along with dashing color matching capabilities. The Epson p700 and p900 are enabled with the 10-color ultra-chrome pro 10 pigment-based fine color reproduction which makes each and every borderless print spark like magic. So in this article, we will be discussing the pros and cons of the two Epson inkjet printers.
Difference between Epson P700 and P900
The key difference between the two Epson printers is their maximum print sizes. The Epson Surecolor p700 can print up to 13-inch wide pictures but the Epson Sure color p900 has an increased printing of 17-inch wide photos. These two models are basically the replacement models for the Epson p600 and p800 which were released in 2015. Additionally, both printers can accommodate cut sheets and roll papers.
Epson SureColor P700 vs P900 Detailed Comparison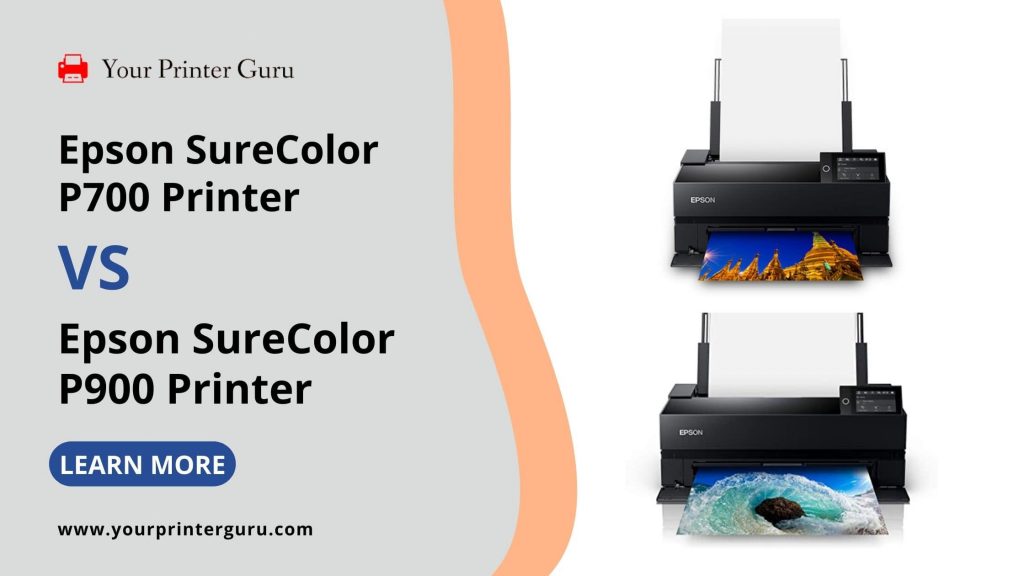 Design and Build Quality
The Epson p700 has a 4.3-inch HD touchscreen display with detailed color calibration. The printer is most probably the first 13-inch A3+ printer which includes a replaceable maintenance box.
It offers print layout software for apple iOS devices so one can easily print from iPhone or iPad. The only dissatisfactory thing is that the printer feels a bit flimsy in places.
On the other hand, the Epson p900 comes with a 4.3-inch color touch-sensitive display with a superior control panel. Also, the internal LED indicators make the tasks much easier.
The big display helps to keep an eye on all the essential things at once like ink levels, current printing status, etc. Also, it has well-built connectivity to run the tasks easily.
Printing Quality and Speed
In terms of printing quality and speed, the two Epson printers prove to be nicely performed. The Epson p700 has 10 ink ultra-chrome pro 10 pigment ink set, Which features cyan, light cyan, vivid magenta, vivid light, yellow, grey, light grey, violet, photo black, and matte inks.
These solid range of colours makes a print more bright and more alive. It also uses new 10 channel Micro piezo print head , dedicated with channels for both black and matte ask inks.
Printing speed is not good it takes around 1 minutes 29 seconds to print 8.5×11" photos and about 2 and a half minutes to print max (13×19") photos.
The Epson Sure Color p900 has a extraordinary power of creating beautiful images. The color contrast is superb and the highest quality setting will automaticallydelivers the best photos.
Best thing is that one can choose the levels of paper while printing.In case of the A2 prints the printing speed is noticeable , in the lowest quality on a glossy paper it takes about 10 mins to print , 12 mins 26 seconds in medium quality and about 34 mins to produce the best quality photos.
Printing Costs
The Epson p700's input tray pulls up and out from the rear side of the printer and it is capable of holding sheets up to the super tabloid size. The specs of these trays are 120 sheets of plain paper and 30 sheets of photo paper.
This Epson p700 printing is really good , this type of device actually don't need to be judged by the cost per print but by their performance. The cost per print is 4.03 US $ per print ( photo black ink) for 13×19" and 3.76 US $ forb13×19" per print (matte black ink).
Whereas, Epson pro 900 delivers you a vibrant and well-spaced printing text at a low running cost. It features the 10 ink feature including black , matte , grey , cyan , yellow etc.It has same sheet capacity like the Epson p700. The cost per print is 0.56 US$ (8×10inch) , 1.74 US $ (13×19).
Connectivity Features
Both printers have superb connectivity options. The Epson p700 has USB 3.0. Wi-Fi, Wi-Fi direct, and also supports Air print and Google Cloud Print. but unfortunately, there is no SD card or USB thumb drive support.
The Epson app comes with complete color management which includes an automatic selection of colors, and profiles, and also supports all of Epson's premium papers.
The Epson p900 comes with Ethernet, USB 3.0, W8fi, Wi-Fi direct, etc. And also supports Air print and Google cloud print. But unfortunately, there is no USB thumb drive support or SD card.
It also runs with the app for Windows and macOS. Also, the Epson app manages all the tasks very skill fully.
Conclusion – Epson P700 vs P900
The two Epson inkjet printers are seamlessly smooth in theirperformance and design no doubt. But the Epson p900 has increased printing size of 17 inch than the Epson p700 which offers 13 inch prints. All-over both the printers are compact and much professional in their printing and connectivity features.