Epson 8550 Vs Epson 15000 – Epson's all-in-one printers offer the greatest advantages including space-saving, multifunctioning, and almost affordable. The Epson 8550 and Epson 15000, the two all-in-one printers are impressive with their designs and performance. So let's check out the features and specifications of these two and find out the pros and cons. Let's begin.
Difference between Epson 8550 Vs Epson 15000
| Feature | Epson ET 8550 | Epson ET 15000 |
| --- | --- | --- |
| Design and Build Quality | 10.9 cm touchscreen, plastic body | 2.7-inch display, plastic body |
| Paper Trays | Two front trays, one A3 paper tray | Auto document feeder, rear tray |
| Connectivity | Ethernet, Wi-Fi, USB 2.0, Wi-Fi direct, Wi-Fi 802 | Ethernet, Wi-Fi |
| Printing Quality | Sharp, luster photo prints, great for professionals | Disappointing color pigmentation, grainy photos |
| Printing Speed | 16 ppm (black), 12 ppm (color) | 16 ppm (black), 7 ppm (color) |
| Printing Cost | Refillable ink tanks, included ink, low cost/print | Super tank system, low cost per print |
| Page Yields | Up to 2300 pages (black and color) | 7500 pages (black), 6000 pages (color) |
| Scanning and Copying | Casual flatbed scanner, no ADF | Flatbed and sheetfed scanner, no duplex scanning |
| Connectivity Features | Ethernet, Wi-Fi, USB, Wi-Fi direct, SD card, USB drive | Ethernet, Wi-Fi, Epson iPrint app |
| PRICE | CHECK OFFER PRICE ON AMAZON | CHECK OFFER PRICE ON AMAZON |
Which Is Better between Epson 8550 and Epson 15000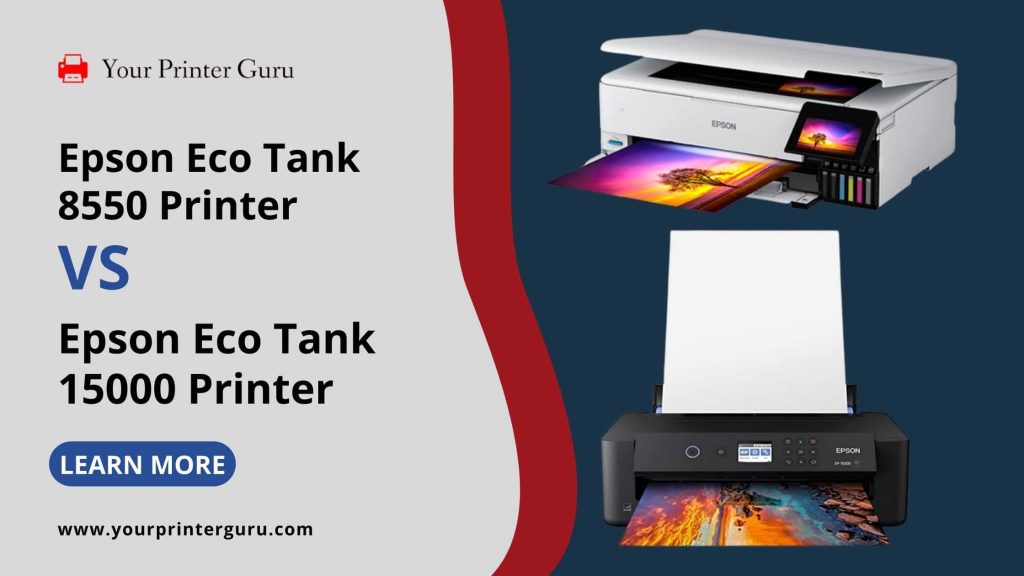 Design and build quality
The Epson 8550 has a touchscreen (10.9 cm) big setup, and a plastic body with easy access to the clear six-ink reservoirs, which will alert you about the ink conditions.
The two years of free ink is a great saver. It delivers one of the most low-cost er print with borderless printing. The entry-level photographers will find these device great according to their criteria as it is easy to use and have great connectivity options.
The A3 print size is amazing. There are two paper trays at the front part and a third one can accommodate A3 papers.
The Epson 15000 comes with the great build quality and a display screen of 2.7 inches with a plastic body. the scanner lid raises on its own so one doesn't have to be panicked to scan thicker books.
It has a good display screen that tilts vertically. But the screen is a bit grainy which reduces the side view. The duplex printing is really helpful for the users. The menu lags but it's quite good in response sometimes.
Printing quality and speed
Both the printers have stunning printing quality and speed. The Epson 8550 prints very sharp with detailing. The luster photo printings are stunningly beautiful with full of colors and contrast. The high-level prints are great for professional use. The speed of the printings is 16 ppm(black) and 12ppm( color).
Epson et 15000 have a quite disappointing color pigmentation. Although the auto document feeder can hold up to 35 pages and the rear tray can hold 20 pages.
The photos are a little grainy and flat in tone with a tinge of blue. But the printing speed of color pages is but sl9w while the black and white prints are good enough. The printer can print up to 16 ppm (black) and 7 ppm.
Printing cost and page yields
the two printers have a remarkable printing cost with a super tank system. The Epson ET 8550 has refillable ink tanks. The ink is included with this printer itself which lasts for about 2300 prints of 4"×6" and replacing it will cost only about four cents /print. It can print up to 13"×19" as it is a large printer. Its exceptional borderless printing makes it special. It can print up to 2300 pages (black and color).
The Epson ET 15000 has a great super tank system. It has a four-tank system which delivers much more page yields than the cartridge system. One can technically fill the tanks with any third-party inks.
But low ink quality can damage the print heads. The page yields are 7500 pages (black) and 6000 pages (color). The most impressive thing is that it can run at an absolutely low cost per print. The more you print the more you will save. The cost per print is 0.003US $( black ) and 0.009 US $( color).
Scanning and copying
Epson always tries to maintain the connectivity issues for the sake of the users. The Epson Et 8550 has a casual flatbed scanner but no ADF (auto document feeder) for easy multiple documents. One needs to place the pages yourself side by side manually. Their scanner is intended for reprinting every single work for business documents. It can copy up to 99 pages.
Epson et 15000 has a stunning scanning feature. It has both the flatbed and sheetfed scanner for easy multiple-page scanning. Unfortunately, it doesn't support duplex scanning so and needs to scan pages for double-sided document scan. The auto document feeder that it has can accommodate up to 35 pages.
Connectivity features
Both the printers have brilliant connectivity options. The Epson et 8550 has both Ethernet and Wi-Fi. Its interfaces also include USB 2.0 Wi-Fi direct and Wi-Fi 802.
It can also print from the scan and both from SD cards and USB thumb drives. The Epson et 15000 also has Ethernet and Wi-Fi options. Unfortunately one cannot print directly from a USB or SD card in this printer.
The Epson I print app has worked like a wonder for both printers. It allows you to print, scan and maintain all the tasks directly just from your phone. In the case of printing Microsoft Office documents, you must install google drive first, or else while opening the document it will indicate that you cannot open the document for some issues.
Conclusion – Epson 8550 Vs Epson 15000
To conclude, both the printers are great for home and office uses. But the Epson ET 15000 stands out to be better in many aspects as it has an auto document feeder, fax option, much more page yield, and extremely low per print costs than Epson ET 8550. Although the Epson ET 8550 has a big screen of 10.9 inches and great photo printing quality.