All-in-one printers have now become the "Jack of all trades". The multi-functioned printers are the beast with their scanning, printing, and copying features. Canon and Epson, both the companies are famous for manufacturing printers.
The Canon Pro 300 and Epson p700 are both inkjet printers and are quite good in printing and copying. Today we are going to discuss the printing speed, design, cost per page, etc. of the two aforesaid printers and will try to see which of these printers has the upper hand to surpass the other. Let's begin.
The Canon Pro 300 and Epson P700 both boast robust designs with sturdy build quality. While the Pro 300 lacks a touchscreen, it has accessible paper jam clearance and effective menu buttons. In contrast, the P700 features a 4.3-inch HD touchscreen and stands as one of the first A3+ printers with a replaceable maintenance box. Printing speeds are moderate, with vibrant color output. The Pro 300 showcases an impressive color gamut, while the P700 employs a 10-channel Micro Piezo head for vivid results.
Canon Pro 300 Vs Epson P700 Key Differences
Features
Canon Pro 300
Epson P700
Functionality
Print
Print
Printer Type
Inkjet Printer
Inkjet Printer
Ink Type
Pigment-Based
Pigment-Based
Printing Resolution
4800 x 2400 dpi
5760 x 1440 dpi
Duplex Printing
Not Available
Not Available
Borderless Printing
Available
Available
Printing Speed
11 x 14″ / 27.94 x 35.56 cm: 2 Minutes 50 Seconds
8 x 10″ / 20.32 x 25.4 cm: 2 Minutes 45 Seconds
8.5 x 11″ / 21.6 x 27.9 cm: 1 Minute 29 Seconds
13 x 19″ / 33 x 48.3 cm: 2 Minutes 23 Seconds
Paper Capacity
Input Tray 1: 30 x Sheet
Input Tray 1: 100 x Sheet
Connectivity
RJ45, USB Type-B, WiFi
RJ45, USB Type-B, Wifi
Direct Printing
Apple AirPrint, Canon PRINT Inkjet/SELPHY, Google Cloud Print, Mopria
Apple AirPrint, Google Cloud Print, Wi-Fi Direct
Display
3.0" Color LCD
4.3″ Touch Screen
Supported Os
Mac, Windows 11, 8.1, 7, iOS, Android
Mac, Windows 11, 8.1, 7, iOS, Android
Launch Year
July 9, 2020
April 21, 2020
PRICE
SEE OFFER PRICE ON AMAZON
SEE OFFER PRICE ON AMAZON
Design and build quality
The Canon Pro 300 and Epson p700 have great designs with well-defined build quality. Both of them have solid plastic bodies with display screens.
The canon pro 300 has easy access to the front panel by which one can easily access the paper jams. Although the canon 300 doesn't have a touch screen it has menu buttons to control the tasks.
The Epson p700 has a 4.3-inch HD touch screen display with detailed color calibration. The printer is most probably the first 13-inch A3+ printer which includes a replaceable maintenance box.
It offers print layout software for apple iOS devices so one can easily print from iPhone or iPad. The only dissatisfactory thing is that the printer feels a bit flimsy in places.
Printing speed and quality
Both the printers have decent printing speed with manifest quality. The color contrast of these two printers is really good. The canon pro 300 has an impressive color gamut that can produce a variety of shades without banding.
Also, the color transitions are pretty good with accuracy although the printing speed is terrible, it takes more than a minute to print and over two minutes for printing photos.
The Epson p700 has 10 ink ultra-chrome pro 10 pigment ink set, Which features cyan, light cyan, vivid magenta, vivid light, yellow, grey, light grey, violet, photo black, and matte inks.
The solid range of colors makes a print more bright and alive. It also uses a new 10-channel Micro piezo print head, dedicated with channels for both black and matte ask inks.
Printing speed is not good it takes around 1 minute 29 seconds to print 8.5×11" photos and about 2 and a half minutes to print max (13×19")photos.
Printing cost and page yields
The two printers have moderate page yields with ok cost per print. The canon pro 300 has a good cartridge system so the black and color page yields are good. It offers an estimated page yield of 323 pages (black) and 425 pages (color).
There is a special cartridge called "Chroma optimizer" which claims to coat and seal photos for improving quality. It has a decent cost per print is 0.040 US $ per print (black) and 0.275 US $ per print (color). While replacing the cartridges, even once is also expensive.
In Epson p700's input tray pulls up and out from the rear side of the printer and it is capable of holding sheets up to the super tabloid size. The specs of these trays are 120 sheets of plain paper and 30 sheets of photo paper.
This Epson p700 printing is really good, this type of device doesn't need to be judged by the cost per print but by its performance. The cost per print is 4.03 US $ per print (photo black ink) for 13×19" and 3.76 US $ forb13×19" per print (matte black ink).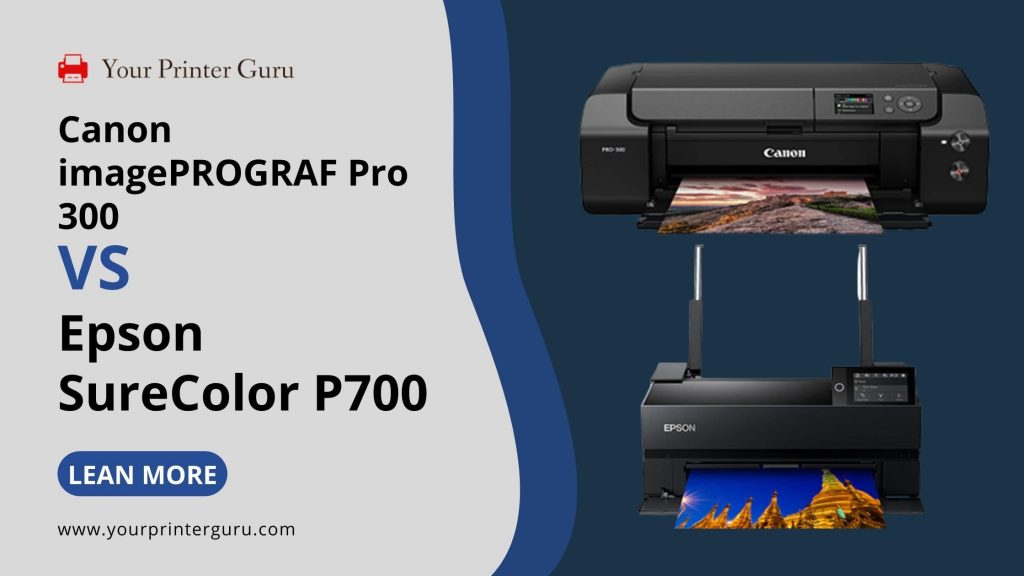 Connectivity Features
Both Canon and Epson always try to maintain good connectivity as it is the easiest way to reach fame. The canon 300 and Epson p700 both are capable of high-speed USB and Ethernet.
Canon Pro 300 is compatible with almost all the operating systems Wi-Fi and Wi-Fi direct, you will just need to download and install the drivers to use Windows and macOS. One can also make minor edits to the photos via canon easy photo print editor.
On the other hand, the Epson p700 has USB 3.0. Wi-Fi, Wi-Fi direct, and also supports Air print and Google Cloud Print. But unfortunately, there is no SD card or USB thumb drive support.
The Epson app comes with complete color management which includes an automatic selection of colors, and profiles, and also supports all of Epson's premium papers.
Conclusion– Canon Pro 300 Vs Epson p700
Although the Canon pro 300 and Epson p700 are very much similar in many aspects, there are some major differences too which make them different from each other. These two multi-tasking inkjet -wireless printers are seamlessly stunning in their looks and performance.
But Epson p700 has a bit advantage to surpass Canon pro 300 for its 10 channel Micro Piezo AMC print head, professional media handling features, and outstanding image quality with ultra-chrome pro 10 ink.