Those days are passed when we have to wait at any cyber cafe or Xerox shop to take printouts or photocopies of any document. We had to waste a lot of time and money on that small task. But as technology has developed, the new decades have seen the development of printers. We have got all-in-one printers that can simultaneously print and make photocopies of files and documents. They can also do the scanning. The prices of all-in-one printers are absolutely perfect for using them at home as well as in a small office. The Canon TS and MG printers are such sort of all-in-one printers that can easily be used for any purpose. In this article, we will compare the features of these different series of printers by Canon and take out the best series between the two. 
Canon TS vs MG Printers- Comparison in Detail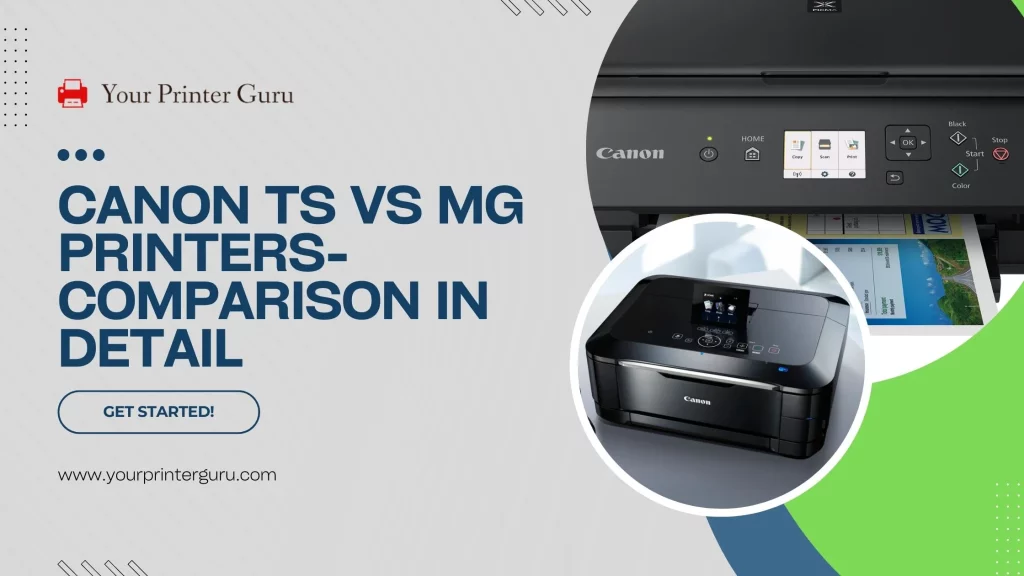 Affordability
A person who is going to buy a printer must be left with the question about the price of the printer. So it must be mentioned first that all the Canon printers come at a very low cost. The Canon TS and MG series printers are also affordable. They are very much impressive and able to deliver good-quality printing. 
Design
The Canon TS series of printers are wide and have control buttons. These printers are very compact and lightweight. For example, the Canon PIXMA TS3450 printer measures 435 mm by 327 mm by 145 mm and weighs only 4 kg. On the other hand, the Canon PIXMA MG3070S printer measures 426 mm by 306 mm by 145 mm and weighs only 3.5 kg.
Paper Holding Capacity
The Canon TS series of printers have basic features for paper holding. These printers have a place for storing papers before printing at the rear part. At the back of the printer, there is a fairly flat path to store the outputs. These printers, generally, have no mechanism for flipping the sheet to print on both sides of a paper.
The Canon MG printers also have a rear paper tray that can hold up to 70 sheets for printing. The paper trays of the Canon MG series of printers support usual A4, A5, B5, photo papers, and envelopes, just like the paper trays of the Canon TS series.
Ink Capacity
The TS series printers of Canon come with two ink cartridges in the box. One cartridge is for monochrome printing and the other is for color and contains three colors – cyan, magenta, and yellow. These cartridges contain enough ink to print up to 180 monochromes or up to 150 color pages. 
The Canon MG series of printers also contains two ink cartridges, one is for monochrome and another is for color. With these cartridges, these printers can print up to 100 pages in both monochrome and color. 
Ease of Use
Setting up and using the Canon TS series printers are very easy. You can go to Canon's website where you will get a guided tour from opening the box to plugging the printers in. With the help of this, you can easily set it up and use it. 
Setting up the Canon MG series printers is also very easy. It does not require any additional support if you simply follow the instructions given in the manual. It will take hardly 10 to 15 minutes to set up the printer. 
Connectivity Features
To connect your Canon TS series printer to other devices, you can go for both wired and wireless support. You can download the Canon Print App on your smartphone or tablet. This app will allow you to print photos and documents from your device. You can also initiate scans or copies with the help of this app.
You can enjoy convenient printing, scanning, and copying with the MG series of printers, too. They have an easy wireless setup as well as the support for Canon Print App that will allow you to check ink level status and set up cloud services from anywhere. 
Speed and Cost of Printing
The Canon MG series of printers can print up to 8 pages per minute for monochrome and up to 4 color pages per minute. The Canon TS series of printers can also print the same amount of pages per minute. 
Bottom Lines
After this comparison between the Canon TS and MG series, it is visible that both of the series have almost the same features. Their print speed, print cost, page yield, connectivity features, and even the installation process are almost the same. Still, if you want us to pick the better one, we will pick the Canon MG series as the printers of this series are more affordable than the others.