HP M283fdw Vs M479fdw- When it comes to buying a printer for your business or small office, you will never go wrong with these two hard-working HP printers, the HP M283fdw and HP M479fdw.
In the case of regular printings of multi-page from a laser printer can be a very efficient process for printing high volumes of pages. Let's get started.
Difference Between HP M283fdw Vs M479fdw
HP M283fdw
---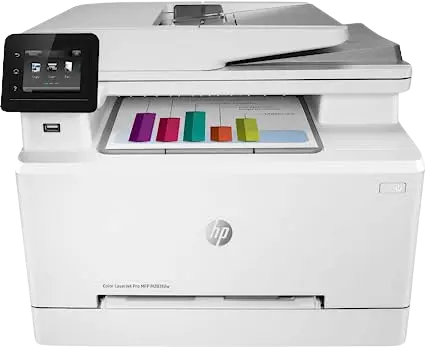 Connectivity: Wi-Fi, USB, Ethernet
Printing Speed: 22 ppm (Color), 22 ppm (Monochrome)
Recommended For: Home and Office
Display: 2.7 inch color touchscreen
HP M479fdw
---
Connectivity: Bluetooth, Wi-Fi, USB
Printing Speed: 27 ppm (Color), 27 ppm (Monochrome)
Recommended For: Home and Office
Display: 4.3 inches color touchscreen
HP M479fdw vs M283fdw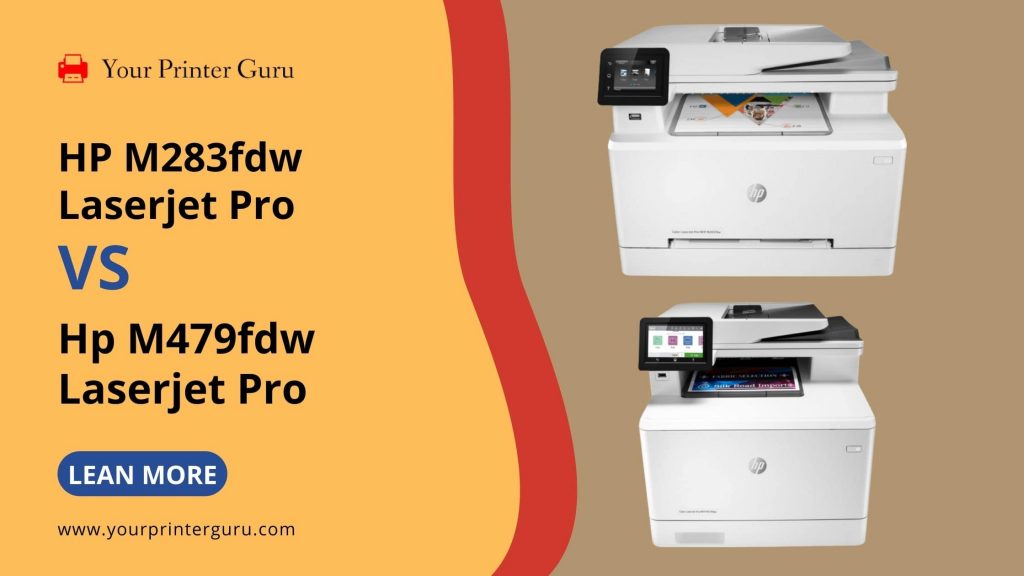 Design and build quality
HP laser jet printers are very much sleek and sturdy in their designs with the moderate build quality. Coming to the HP M283fdw, it has a 2.7-inch touch screen with a white body which makes it looks great with a smooth interactive display.
It has two paper trays and auto duplex printing along with scanning copying and faxing facilities. It has two input trays with a maximum sheet accommodation of 250 input sheets and 100 output sheets which can handle almost all the hard-core office works. It also has moderate connectivity features along with the front-facing USB and Scan to email facilities.
The HP M479fdw comes with a big 4.3-inch touch display with a white sleek body making it business ready. It also has a 50-sheet feed tray and 250-sheet secondary feeder tray.
The stunning printing quality along with scanning copying and quick fax impress the users very much. An additional point is added in HP M479fdw as it has the optional 550 sheet tray, which separates the MF479fdw from MF283fdw and makes it unique.
Both the printers are good in connectivity and in pairing with phones. The additional tray feature makes this a bit costly i.e. the M283fdw listed price is $549 and the M479fdw costs $699.
Printing quality and speed
Both the printers have great printing quality along with decent speed. The HP laser printers are well known for their hard work and performance in printing scanning and faxing.
With the M283fdw one can print stunning photos with vibrant color contrast and well-defined detailing but in the highest resolution the colors may look a bit oversaturated. The auto two sides printing (duplex printing) help the tasks and a 50-page auto document feeder manages the printing.
The max printing resolution is 600×600 DPI (black and color). It can be said that M283fdw is a bit speedy printer that delivers 22ppm (black and color).
On the other hand, the M479fdw comes with stunning features of printing and good print quality. The optional 550 accessory tray makes it more demanding. It also supports duplex printing and can print up to 600×600 DPI photos keeping a margin of 4.33mm on every side.
The margined photos with stunning color contrast looks amazing. The printer is speedy than the M283fdw, it can produce 28ppm (black) and 27ppm (color) prints which is outstanding, and takes 10 seconds to print the first one.
Scanning, copying, and faxing
The M283fdw comes with a CIS scanning technology and two types of scanning i.e. flatbed and Auto document feeder. It lacks the duplex scanning feature so one has to flip the document while scanning them.
The maximum optical scanning resolution is 1200×1200 DPI. It can scan up to 22ppm (color) and 26ppm (black). Coming to the copying features, the printer here also performs a mediocre type.
Thanks to the duplex copying, it can scan up to 600 ×600 DPI. The first copy takes 11.4 seconds to complete. Although it can copy 21 copies per minute (black and color). It can fax up to 3 seconds per page speed which is the same as the M479fdw.
In the case of the HP M479fdw, it has far more features than the HP M283fdw. The CIS technology is also used here for scanning along with the two types of scanned and thanks to the duplex scanning which helps to scan the double-sided documents easily.
It can scan files directly to email, USB, and network folders which not only save time but also makes the work much easier by enriching productivity. The max scanning resolution is 1200×1200DPI and it can scan up to 20ppm (color) and 29ppm (black).
It also has good copying speed along with faxing. It can copy up to 999 pages at a speed of 22cpm (black and color) and the fax transmission speed is 3 seconds per page.
Printing cost and page yields
The M283fdw has the big drawback of high cost per print and comparatively low page yields than the M479fdw. It prints black and white at a fairly reasonable price nearly about 0.03 US $ per page or 14.11 US $ per ream of paper.
But the color printings cost much more than the black ones 0.11 US $ per page. The M283fdw uses HP 205 model toners, the set includes Black (1350 page yield), Cyan (1250 page yields), Yellow (1250 page yields), and Magenta (1250 page yields). It has a monthly duty cycle of 40000 pages (maximum).
On the other side, the M479fdw delivers quite a cheap cost per page and higher page yields than the M283fdw. On buying the highest cartridge one will get 7500 black pages and 6000 color pages.
In this case, the running costs will be about 2.2 cents @monochrome pages and 14.2 cents @color pages. If one prints a lot then they will be in profit.
The printer uses HP 414A model toners which include four cartridges i.e. Black (2400 pages) Cyan (2100 pages), Yellow (2100 pages) Magenta (2100 pages). It has a monthly duty cycle of 50000 pages (maximum).
Connectivity features
Connectivity makes a printer more reliable and user-friendly. To be honest both the printers perform pretty well in connectivity and performance.
The M283fdw comes with Dual-band Wi-Fi wireless printing and Ethernet with USB. Coming to the mobile setup, the printer also performs very well in connecting with mobile devices.
One can print anywhere anytime even without accessing the network. It is also compatible with HP smart app and Air print apps.
The M479fdw is a bit advanced printer in both aspects of connectivity and performance. it has a high-speed USB, Wi-Fi, Wi-Fi direct, and Ethernet from which one can seamlessly print documents.
In an extra addition to the Wi-Fi direct, there are other mobile connectivity options which include Apple air print, Google cloud print, Hp smart, etc. It works smoothly with Windows as well as Macs and UNIX systems.
Conclusion– HP M283fdw Vs M479fdw
Both the printers HP M283fdw and M479fdw are very much similar and reliable all-in-one laser printers for small business and home use indeed. But some crucial differences make them more or less worthy in many aspects.
Here the M479fdw is the much-preferred printer for its larger (4.7 inches) display, much fast printing speed (can print around 28ppm but the M283fdw can only 22ppm), higher page yields, and handling larger printing volumes than M283fdw.
But one has to pay 150$ for the additional tray of the M479fdw than M283fdw, so in case of short in money, M283fdw can also be a good option.