Hp Officejet Pro 9015 vs 8025- Hp printers maintain their quality and performance with a convenient price range. Especially the Hp Officejet Pro series are made for home uses and small business. The Hp Officejet Pro 9015 and 8025 have many similarities and dissimilarities, in this article we will try to cover almost all the points accordingly. So let's get into it.
Difference between Hp Officejet Pro 9015 and 8025
There are many differences between Hp Office jet Pro 9015 and 8025, they are-
The Hp office jet Pro 8025 has become more popular in the market due to its lower price as compared to the Hp office jet Pro 9015.
The Hp Office jet pro 9015 has a better printing speed of 22 ppm but the Hp Office jet Pro 8025 has 20 ppm. But the Hp Office jet pro 8025 supports duplex printing.
The input sheet capacity of Hp office jet pro 9015 is better i.e. 250 sheets than that of the Hp office jet pro 8025 which has an input sheet capacity of 225 pages.
Hp Officejet Pro 9015 vs 8025 Comparison in Detail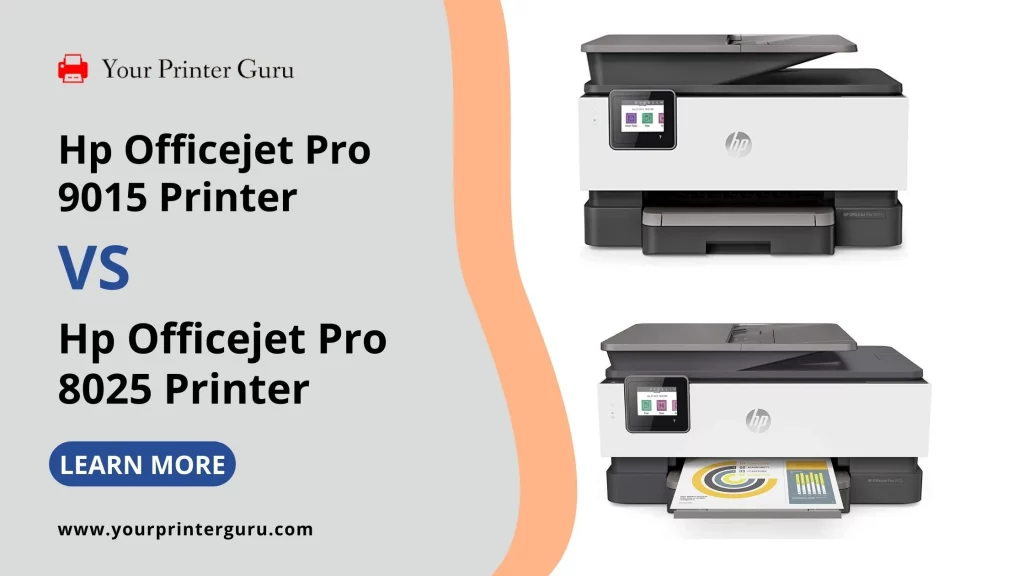 Design and Build Quality
HP printers have decent designs along with build quality. The HP Officejet Pro 9015 has a great display with a 2.7″ inch colour touchscreen. The screen can be tilted vertically to watch from almost all angles, and the touch controls are very responsive and easy to control. The solid grey body feels good and the scanner lid can be raised to scan larger objects. Additionally, the audio feedback makes the printer technically updated.
On the other hand, the Hp Officejet Pro 8025 also comes with a 2.7 inch sleek touch screen display along with well responsive buttons. The surface of the printer is so smooth and well designed , also the scanner lid can raise much to fit thick items easily. Also it comes with a good security system and voice printing.
Printing Speed and Quality
Hp printers have decent printing speed and quality. The HP Officejet Pro 9015 holds 250 sheets in its input tray, so one doesn't need to refill them more often. The duplex printing boosts the printing speed and makes it hassle-free. It has a decent speed of printing and it also produces detailed prints with glamorous colours and, surprisingly, most of the colours look almost identical to the original ones. The printer offers a printing speed of 22ppm (black) and 18ppm ( color).
The Hp office jet pro 8025 has decent printing quality with vibrant colors with great color accuracy. The printer has an input tray of 225 sheet which is less than the Hp Office jet pro 9015 i.e. 250 sheet. The printer has a mediocre color contrast and sometimes a tinge of blue is seen, so the professionals may not possess interest in it who wants accuracy in their printings. Also the duplex printing helps to print both side documents easily. It delivers printings with a speed of 20 ppm (black) and 16 ppm (color).
Scanning and Copying Features
The all new Hp Office jet pro is powered with decent scanning and copying capabilities. The HP OfficeJet 9015 has a flatbed and an auto document feeder, which has a capacity of 35 sheets. The printer also supports duplex scanning, which makes double-sided printing easier. It has a default resolution of 300 DPI, but one can set it to the max resolution of 1200 DPI and can scan at a speed of 10 ppm ( black and color). It has both copying and faxing facilities. It can copy up to 99 pages at a speed of 32 cpm.
Also the HP office jet pro 8025 has a flatbed scanner and Auto document feeder which makes the scanning experience smooth. The lid can hinge much to scan thick documents but it can perform auto duplex scanning. It has a default scan resolution of 300 DPI but can use the flatbed scanner up to 1200 DPI with fine detailing. It can scan up to 4 ppm with 35 page ADF capacity. It also has a copying speed of 20 cpm (black and color).
Printing Costs and Page Yields
Both the printers have an affordable cost per print with moderate page yields. The HP Officejet Pro 9015 has good cartridge management with a good number of page yields.
The printer has three colour cartridges. If anyone needs more yield, they can go for high-yield ink cartridges, and third-party cartridges are also allowed.
It offers a page yield of 1158 pages ( black) and 723 pages ( color). Not only that, it has an outstandingly low cost per print.
One can also register at HP Instant Ink, which will provide you with inks at your doorsteps whenever you're finished. It delivers a print at a cost of 0.028 USD per page (black) and 0.089 USD per page, which is really good.
The Hp office jet pro 8025 has bad black page yields but the cartridge replacements are cheap. Comparatively the color page yields are good but cartridges are expensive. It yields 256 pages (black) and 233 pages (color) estimated.
One can sign to the Hp ink subscription which leads you to print hassle-free. The cost per print is 0.74 US $ per print (black) and 0.150 US $ per print (color).
Connectivity Features
Connectivity matters a lot while making a printer more demanding. As the HP Officejet Pro printers are meant to be used in homes for small office tasks, connectivity matters a lot here.
So both the printers come with stunning connectivity along with voice assistant support. The HP OfficeJet Pro 9012 and 8025 have both wired and wireless connections, including Ethernet, USB, Wi-Fi, and Wi-Fi direct, as well as Apple Airprint and Morphia support for printing.
Additionally the Hp office jet pro 9015 has the NFC and the Energy star which the Hp office jet pro 8025 lacks. They also have support for cloud printing and the HP Smart App lets you print, scan, and copy anytime, anywhere.
Conclusion – Hp OfficeJet Pro 9015 vs OfficeJet 8025
Making a conclusion , we can say that, both the Office jet printers are extremely well performed and have decent quality printing outputs. But the Hp office jet pro 9015 has the upper hand for its better sheet capacity, decent scanning speed, good page yields, superb printing speed and connectivity. Although the Hp office jet pro 8025 is also quite famous in the market for its low price and well connectivity features.