Epson Expression printers are compact machines, which have a quick setup and wireless connectivity. They are specifically designed to perform printing scanning and copying documents with decent speed and accuracy.
We are going to discuss almost all the specifications of Epson XP 4105 and 3105 and will try to find out if they are similar or different from each other in many ways. So let's get started.
Difference between Epson XP 4105 and Epson XP 3105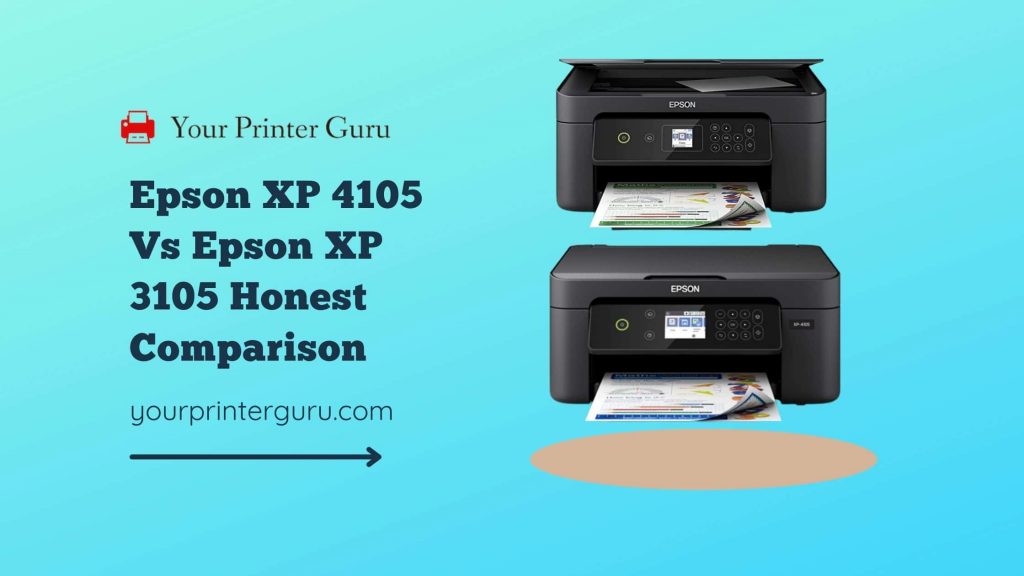 Design and build quality
Both the Epson printers have an adequate design with a plastic body that feels sleek and attractive. The Epson XP 4105 has a 2.3-inch display but the Epson XP 3105 has a bit small 1.4-inch display.
The screen is quite responsible and easy to operate. Both the printers have excellent build quality with decent running costs and connectivity.
The Epson XP 4105's scanner lid stays open on its own but cant hinge much to fit a thick document. It needs to turn on for accessing the ink cartridges and also the replaceable power cable is also good.
On Epson XP 3105 you get all the valuable tools for daily work and can also save much space on your desk. It's a great choice for customers with brilliant results.
Printing speed and quality
In terms of printing quality both the printers prove to be moderate with a passable speed. But the Epson XP4105 has a bad speed and color accuracy. It delivers 8ppm (black) and 4ppm (color) which is bad.
Whereas the Epson XP 3105 has a great printing speed of 10ppm (black) and 5ppm (color) and the auto duplex printing helps to print both sides with accuracy.
Coming to the quality, the Epson XP 4105 has well quality with good details and but the color accuracy is not up to the mark. Both the printers have a 100-sheet input tray capacity.
The Epson XP 3105 gives a stunning borderless printing with great speed and color accuracy which stands out to be much more appealing as compared to the Epson XP 4105.
Scanning and copying
With the Epson XP 4105 one can get very bad scanning and copying features as compared to Epson XP 3015 as it doesn't have the sheet-fed scanner and duplex scanning. On the other hand, the scanning resolution and speed are also very low almost 1ppm. The copy feature also stands out to be very bad.
The Epson XP 3105 has a great scanning facility with copying. The CIS scanning method proved to be good with high scanning resolution. The auto duplex scanning and copying makes the printer faster and more demanding.
It can scan documents with the resolution of 1200×2400 DPI and with a copying speed of 7.7 ISO ppm (black) and 3.8 ISO ppm (color) which is good.
Printing cost and page yields
With the Epson expression printers, one can get a good printing speed and page yields. Although the page yields of Epson XP 4100 are bad both in the black and color pages and the cartridge system is also bad especially the black yields very low only 171 pages (black) and 106 pages (color).
The cartridges don't last long. So they need to be replaced very often. The cost per print is 0.117 US $ per print (black) and 0.198 US $ per print (color) which is a bit high.
On the other hand, the Epson XP 3105 has decent individual ink cartridges so one doesn't need to replace them much often. One can also save money by buying high-capacity ink cartridges. It can print up to 500 pages (black) and 350 pages (color) with high ink cartridges with a really low cost per page.
Connectivity features
In the case of connectivity, the Epson XP 4105 has very few options including Wi-Fi and Wi-Fi direct but no Ethernet, Bluetooth, or external storage system.
But one can easily print and check the ink levels through the Epson print app via mobile through Air print or Morphia. But sometimes some glitch occurs while connecting the device with the computer.
On the other hand, the Epson 3105 supports the latest wireless 802.11 b which provides great speed. Through the easy setup of the printer, one can easily connect their device to any network will less effort.
With the Epson print app, one can easily print via the mobile through Apple AirPrint or Morphia. Both the printers are extremely handy and space-saving.
Conclusion– Epson XP 4105 Vs Epson XP 3105
Both the Epson XP 4015 and Epson XP 3015 are familiar printers and they do their job very well in all aspects including Printing scanning and copying.
But the Epson XP 3105 has much better printing resolution and scanning color depth and the versatile facilities make it much superior to Epson XP 4105. Though, the voice activation is very impressive in the Epson XP 4105.