The Hp Deskjet printers are genuinely made for home uses and they appears to be super cool in their designs and compact in size. Today in this article we will be comparing the Hp Deskjet 2755 and 3755 and will try to find out which has much better qualities. Lets begin.
Hp Deskjet 2755 Vs 3755 Comparison in Detail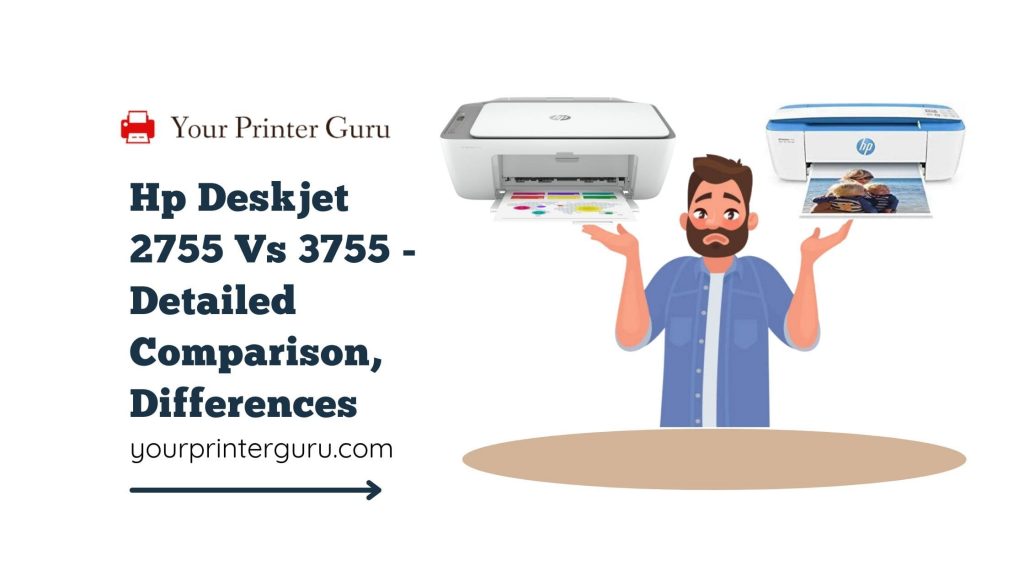 Design and build quality
The HP Deskjet 2755 has poor build quality and a poor design. The body of the printer is made of plastic, which feels a bit flimsy, and it can hold up to 60 pages at a time. As it has a compact size , it may cause some difficulty accessing the paper jams .
It has a display of LCD screen 1.2 inches, which can be titled along with seven buttons for monitoring printing information, cancelling printing , controlling power, etc.
On the other hand, the HP Deskjet 3755 has a moderate build quality along with a passable display. The printer has a thin output tray. It can detect if the door of the front panel is closed or not. although the display is limited as it only shows the status icons. The 1.1-inch screen is surrounded by eight physical buttons like Wi-Fi, colour or black copy, printing tasks, etc.
Printing speed and quality
In terms of printing quality, the HP Deskjet 2755 performs badly. Both in black and colour printing, it takes a long time. Also, there is no duplex printing and as the input tray can hold only 60 pages, you need to refill it often.
The printer has an OK type quality. It has lots of greyscale and banding in colours with graininess. The printer prints at a speed of 7.5ppm ( black) and 5ppm ( color).
The HP Deskjet 3755 has good printing quality but bad speed. The dark parts may appear with a slight green tinge and the red is over toned. It doesn't support borderless orinting and the colours are a bit oversaturated.
It prints at a slow speed and as there is no ADF or duplex printing, the overall experience is not very convincing . It has a speed of 15ppm ( black) and 19ppm ( color).
Scanning features
The HP Deskjet 2755 has mediocre scanning facilities. It has a flatbed scanner, so it takes longer to print manually. The OCR technology allows you to save the documents easily in PDF files, which can be edited , scanned, and copied whenever needed.
The default scanning resolution is set to 75 DPI, but high resolution scanning is accepted and it can create more clear scanning. Also, the scanner lid can lift a lot to scan bulky items. It has a scanning speed of 2ppm.
On the other hand, the HP Deskjet 3755 has only a sheet-fed scanner , so one cannot do much scanning of delicate items. Also, scanning more than one page at a time will create paper jams.
The default resolution is the same as the HP Deskjet 2755, but it can be increased up to yo.600 DPI. It has a scanning speed of 1 ppm. Sadly, both the printers don't have a faxing facility.
Page yields and printing costs
When it comes to page yields, both the printers prove themselves bad in this case. The HP Deskjet 2755 has a disappointing cartridge system. The black and colour ink run out much more quickly, so one needs to replace them more often.
The printer comes with one colour cartridge, but that is a waste because if that runs out, the other cartridges will also stop printing until it gets replaced. It yields 111 pages ( black) and 61 pages ( color) estimated.
Also, the cost per print is also quite disheartening , but one can subscribe to the HP instant ink to get updated whenever they need. The printer costs 0.144 US dollars ( black) 0.279 US dollars per print ( color).
The HP Deskjet 3755 also has an awful cartridge system with one black and one tri-color cartridge. Both the cartridges yield fewer pages than expected, so one needs to replace them more often.
Also, while high yield cartridges, such as the HP 65XL, are available, they will not be sufficient for the majority of printing. It yields 111 pages ( black) and 42 pages ( color).
Not only that, but it has a high cost per print, particularly because the cartridges run out so quickly, but subscribing to HP instant ink can make you feel better in that case. The printer costs 0.144 US per print ( black) and 0.405 US per print ( color).
Connectivity
In terms of connectivity, the two printers are kind of decent. The HP Deskjet 2755 and 3755 have USB, Wi-Fi, and Wi-Fi direct. The Hp deskjet 2755 has Bluetooth and voice assistant.
On the other hand, the Hp deskjet 3755 as it has voice assistant help to print easily and cloud printing along with low energy consumption. They are fully compatible with the HP Smart app, which is easily available on iOS or Android, through which one can easily print photos from the mobile , buy new ink cartridges and can also maintain all the printing tasks easily.
They also support Apple, I print , Morphia, etc. But sadly, both the printers don't have Ethernet, Bluetooth, or any kind of external storage support.
Conclusion – Difference between Hp Deskjet 2755 and 3755
The HP Deskjet 3755 and the HP Deskjet 2755 are mid-range inkjet printers with lots of similarities. Both of them, the Hp Deskjet 3755 has the upper hand for its cloud printing, four months ink subscription, low energy consumption, good printing speed and decent range of colors.Although the HP Deskjet 2755 has good printing quality, color accuracy along with scanning details.