Epson, a Japanese multinational electric company and one of the largest manufacturers of computers, printers, and related instruments very recently announced disheartening news related to printers. The company has officially announced that it will stop making and selling laser printers and soon it will become fully committed to inkjet printers for its environmental values. In this article, we are going to discuss this severe issue briefly with the actual reasons behind it. So let's proceed.
According to Epson, they want to rely on inkjet printers as they consume less energy contrary to laser printers and they come with compact and lightweight designs eventually they help limit resources during shipping and production. The compact size also refers to easy transportation and space management which can easily fit in the space, also the high-yielding ink cartridges help to reduce material usage, and storage. Epson announced that they will fully convert to inkjet printers from laser printers by 2026, not only by sales but also by distribution.
As per many other resources, we get to know that Epson had already stopped selling the laser printers in many markets and soon they will continue doing this in Asia and Europe countries too. In many previous blogs regarding Epson printers, it has been stated that laser technology has limited ability to make specific steps towards improvement as it needs immense heat for the entire process and eventually it will consume more and more energy for that only.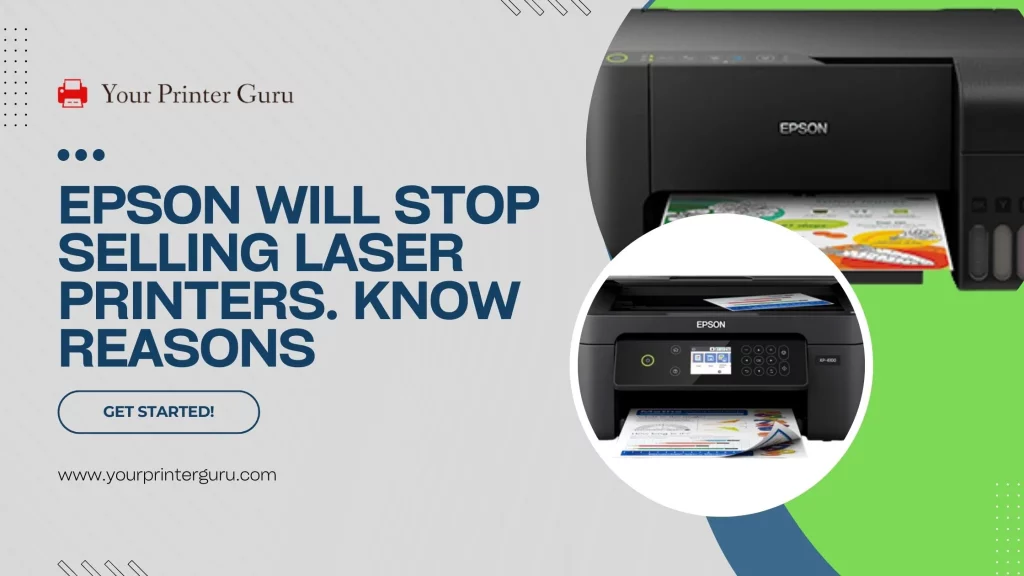 According to several journals and critical studies regarding Epson printers (2019) states that,
The inkjet printer needs 85% less energy than an equally speedy Laser printer.
The printers produce 75% less Carbon dioxide contrary to the other laser printers. As per Epson, it genuinely means that a laser printer needs 6 trees to absorb the Carbon dioxide that it exhales but the inkjet printer requires only 1 tree to absorb it.
Epson inkjet printers come with very few components that need to be replaced. In terms of the new generation, the Epson inkjet printers need 59% fewer replacements as compared to the other laser printers. This results in a reduced impact on nature over the entire lifespan of a printer.
Epson will switch fast as they are going to launch a new range of inkjet printers that can print 40 -60 pages per minute.
So, these are the few causes that can be valid reasons for the suspension of selling laser printers. Also, Epson will support the customer who already owns the Epson laser printer by providing them the spare parts. For the customers, inkjet printers are easy to use and more cost-effective, and easy to accommodate which will be much easier options to work in the office environment.
To summarize it can be told that the Epson printers are the most trustworthy printers for both home and office uses. According to Epson as the eco-balance is getting hampered due to the laser printers so it cant be continued thereafter as the company is focusing on the environment so they will concentrate on the further development of the Inkjet printers. So the future is all about inkjet printers not only Epson but also the others industry will also follow its footprints of it to maintain eco-balance as a long-term business strategy.