Updating ourselves with time is challenging, but to survive in this trending world things also need to be changed according to taste. Information and technology have grown up to their peak and what we need is now faster productivity with accuracy.
The Employees of the different company mainly needs a kind of machine which will serve them more and more pages with great quality and performance. Let us compare the two multi-functioned printers i.e. Epson eco tank 2760 and Epson Eco Tank 3760.
Epson Eco Tank 2760 Vs 3760 Detailed Comparison
Epson Eco Tank 2760
---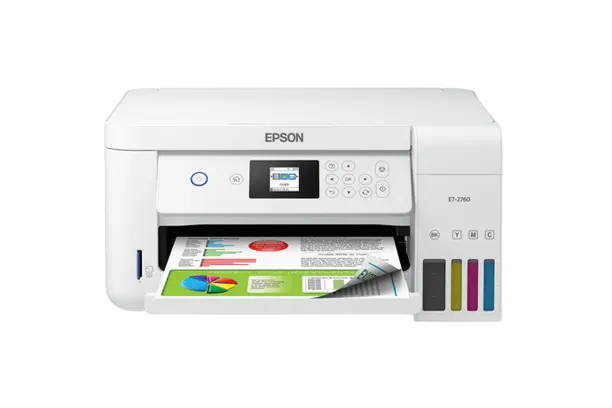 Print Speed– 5 ppm (color), 10.5 ppm (Monochrome)
2-Sided Print Speed- 6 ppm (black), 4 ppm (color)
Maximum Print Resolution– 5760 x 1440 optimized dpi
Epson Eco Tank 3760
---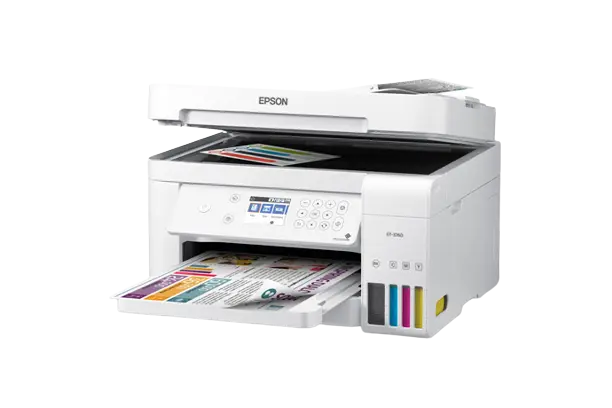 Print Speed- 8 ppm (color), 15 ppm (Monochrome)
2-Sided Print Speed- 6.5 ppm (black), 4.5 ppm (color)
Maximum Print Resolution- 4800 x 1200 optimized dpi
Design and build quality
If we talk about the designs of Epson 2760 and 3760, they are moderate with plastic bodies. The level of inks is visible and the power cable can be replaced very easily(if got damaged). But there is only one input tray set in the printer's rear, and the papers are easier to load.
But, the scanner lid can accommodate big items like magazines or books. To reach the tanks one needs to open the lid. The most significant difference between them is the auto document feeder which Epson 2760 lacks. Epson eco tank 2760 and 3760's paper tray seems to be sturdy and features the standard slide guide.
Printing speed and quality
When it comes to printing both of them perform pretty well with decent speed and accuracy. These multipurpose printers have four large ink tanks, which are quite impressive and can print a huge number of pages.
The Epson eco tank's color specifications are more vibrant and unique which tries to maintain the accuracy of the image. It is a great option for the schools and teachers, who needs to print documents more often. Between the two, however, the Epson eco tank 3760 has the upper hand to surpass the eco tank 2760.
The printing speed of Epson eco tank 2760 is a bit slower 10.5ppm( black) and 5 ppm(color) whereas the Epson Ecotank 3760's speed is 15 ppm ( black ) and 8 ppm(color). Both printers have decent-quality printing.
To be more precise, the texts, characters, and graphics are more solid and visible and clear with both side printing options. Talking about the colored photos, the Epson eco-tank 3760 creates more contrasting detail in the images. On the other hand, the Epson eco-tank 2760 occurs less precisely and kind of fade tone in color contrast.
Connectivity features
Like any other devices, printers are also becoming smarter and easy to go with the trend. Both devices have versatile connectivity options with great features. The Epson eco tank 2760 comes with an SD card, Wi-Fi, and USB support while the Epson eco tank 3760 supports an Ethernet, USB 2.0, and Wifi direct connection.
Also, both printers allow printing from any mobile (android and IOS) using the iPrint app and also have the amity with other platforms like Apple Airprint and Chromebook Printing. Both printers support voice- printing, which is really great.
Scanning and copy
Both the printers are decent in their tasks. Epson 2760 has built-in OCR technology, which let you easily copy and edit the text, you want to scan. There is no auto document feeder or fax feature.
On the other hand, Epson 3760 has a flatbed scanner, which is good for scanning, the sheetfed scanner with an automatic document feeder creates documents more quickly. There's no duplex scanning and fax, so one needs to scan both sides manually if needed.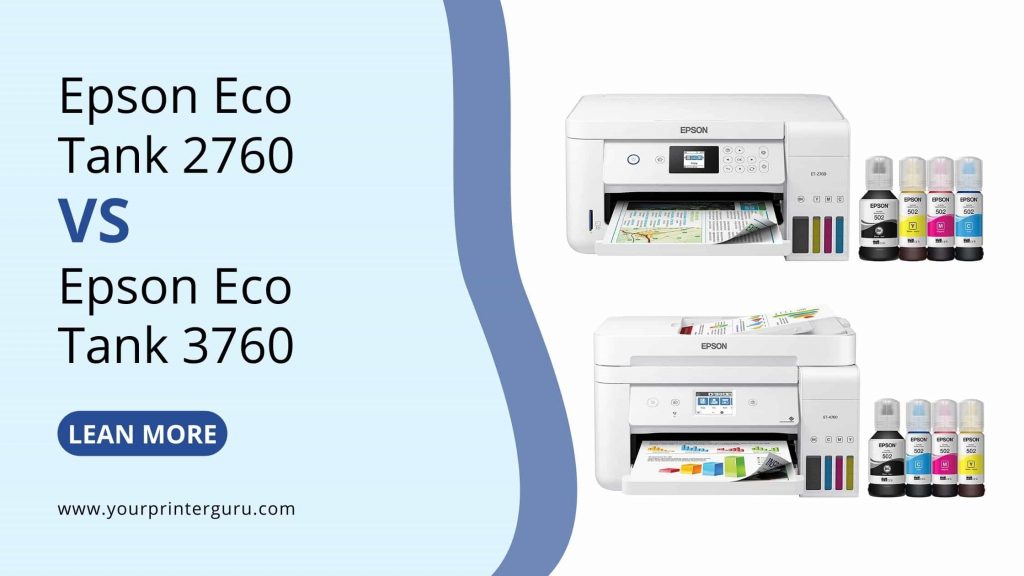 Printing cost and page yields
Among the all-in-one printers, these two printers offer the minimum running costs in the entire market. The cost per page of Epson eco tank 2760 is less than 0.003US $ per page (black) and 0.007US $ per page.
Whereas,Epson 3760 costs0.3 cents per page( monochrome) and 0.9 cents per page(color) to print. Both the devices use eco tanks with the highest black ink. For a colored document one will get about 6000 pages.
Custom print sizes are available in Epson eco tank 2760, which leads you to print A-5 pages easily. The maximum weight for plain copy is enlisted as 90g/m2, and the heaviest weight is 297 g/m2.
Both of the printers have a super tank system. In Epson 3760 the four-tank capacity is great for printing, even if you always use the printer you may not refill it often. With the Ecotank 2760 and 3760, one gets enough ink to print almost 7000-7500 pages. The company also provides almost 2 years' worth of ink itself.
Conclusion– Which One Is the Best?
Compared in the aspect of speed and quality, Epson-3760 stands out to be the best. On the other hand, Epson eco tank 2760 is moreover a value-for-money purchase. In Epson 3760 you find a low-cost ink replacement and the SD card compatibility is quite good.
The auto document feeder and the stylish design make the Epson 3760 more worthy. The print quality in Epson 2760 will suit your expectation. To summarize Epson 3760 stands out to be a great addition for an all-in-one printer that will suit all your purposes, but the extra dollars will make you think twice indeed.