HP Officejet 8035 Vs 9015- HP printers are known for their decent designs and low running costs. The HP Officejet Pro printer series is specifically designed for home and small business purposes. We are going to compare the two printers, HP Office Jet 8035 and 9015, and will try to find out their pros and cons. So let's get started.
Difference between Hp Office Jet 8035 and 9015
The main difference between the two printers is that Hp Officejet 9015 yields more pages, the sheet capacity is much better, it has lower running costs, and has stunning printing speed which the Hp Office jet 8035 lacks. But the Hp office jet 8035 comes with the 8 months Hp instant ink but the Hp office jet 9015 got free ink for only two months.
Hp Officejet Pro 8035 vs Hp Officejet Pro 9015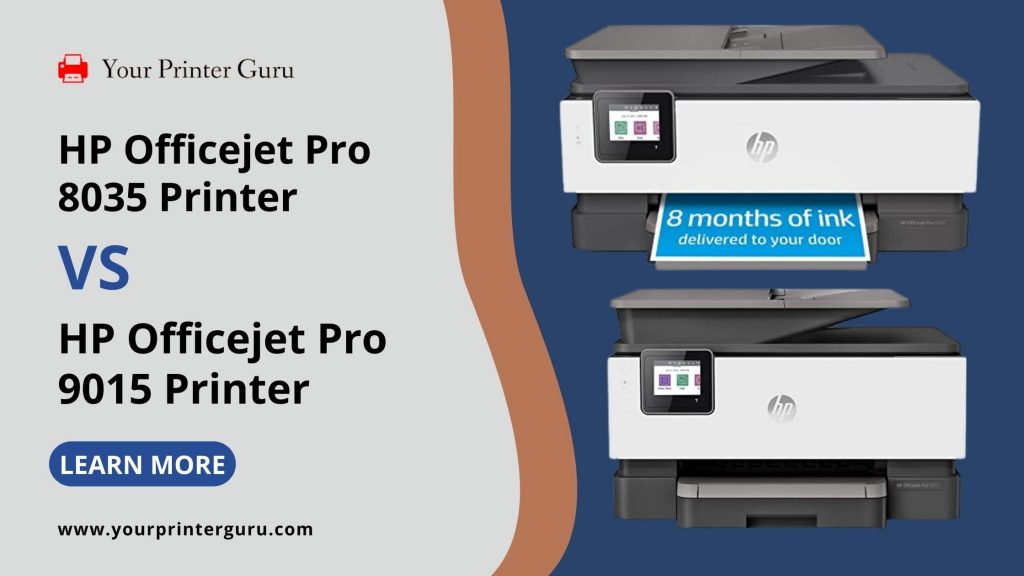 Build Quality and Design
Both the HP all-in-one printers come with a moderate design. The Hp Officejet 8035 comes with a white body and 2.7-inch touch color display. It is indeed a great family printer with a compact design and smooth screen visibility.
The scanning, faxing and copying facility is also much decent as per its price. Additionally, the Wi-Fi works incredibly well in this printer, especially the self-healing Wi-Fi feature is impressive and the 8 months Hp instant ink is provided with the package which is also a benefit of buying it.
The HP Officejet 9015 offers a solid grey body with a 2.7-inch touchscreen display. The scanner lid can be raised significantly to accommodate thick items, and the front paper tray is not much easier to open or close.
Mostly, the display screen has great visibility from all angles. The touch controls are very responsive and also provide audio feedback.
Printing Quality and Speed
When it comes to printing quality, both the HP Office 8035 and 9015 work fine. Indeed the print quality and printing speed of the Hp Office jet 8035 are decent.
The printer prints with Hp thermal inkjet printing and the borderless photos look really great with the bright color contrast. The color accuracy is really great also it can print up to 4800×1200 DPI color photos.
The duplex printing boosts the speed of printing and makes it easier. It has a printing speed of 20ppm (black) and 10ppm(color) which is really nice.
When it comes to printing quality, the HP Office Jet 9015 also has great printing quality along with speed. The colors are vibrant and well-defined. Most of the colors are very accurate, but some tinge of blue is there, but the duplex printing saves a lot of time.
As it has 250 sheet input tray, in the case of lots of printing, one doesn't need to refill it often. The printer delivers prints with an outstanding speed of 22ppm (black) and 18ppm ( color).
Scanning and Copying
These two multifunctional printers come with stunning scanning, copying, and faxing facilities that make them more user-friendly. The Hp Officejet 8035 has both Flatbed and 35-sheet Auto Document Feeder to feed documents more quickly.
It can scan with a speed of 8ppm (black) and 3.5ppm (color). Also, it can copy up to 99 copies with a speed of 29cpm(black and color). It has a fax transmission speed of 4 secs per page which is really amazing.
The HP Officejet 9015 also has excellent scanning capabilities, including a 35-page auto document scanner and duplex scanning, which contributes to increased productivity. One can also save the documents as PDFs and can copy and edit the saved documents easily.
It has a default scanning resolution of 300 DPI, but it can be expanded to 1200 DPI. It has a scanning speed of 10ppm ( black and color).
Page Yields and Printing Costs
It is quite justified that both Hp printers have affordable running costs with a good number of page yields. The Hp Office jet 8035 comes with 4 ink cartridges that yield a decent number of pages in both colors.
The printer yields1500 pages (black) and 825 pages (cyan) XL inks which is great as a home printer. It also has an 8-month free Hp instant ink which will last much longer. It costs much pocket friendly than other printers.
The HP Office Jet 9015 has a great cartridge system which yields a good number of black and color pages before replacing them. One can also use third-party cartridges for better yields. It yields 1158 pages ( black) and 723 pages ( color) estimated.
The printer also has a low cost per print as the black text documents are very affordable and the color prints are also cost-effective. One can also get the HP Instant Ink subscription for an automatic ink supply. It costs 0.028 US per print ( black) and 0.089 US per print ( color).
Connectivity Features
Both the HP 9015 and HP 8035, arrive with a remarkable range of connectivity options as multipurpose printers. The Hp Office jet 8035 comes with Ethernet, Wi-Fi, built-in Wi-Fi, USB, etc.
Especially the Self-healing Wi-Fi facility is an incredible feature that ways make sure to connect your printer with Wi-Fi and provides an uninterrupted printing process. Also, the Google Assistant, Hp smart app, and Alexa will help you to run the task with next-level experience.
The HP Office Jet 9015 printer supports Ethernet, USB, Wi-Fi, Wi-Fi direct, voice assistant Alexa, and HP Smart App, making it more appealing. It also supports Apple Air Print and Morphia Print services. Although both of the printers don't have Bluetooth.
Conclusion – HP Officejet 8035 Vs 9015
Overall, the HP Officejet 9015 is a superior all-in-one printer to the HP Officejet 8035. The HP Officejet 9015 has better printing quality, scanning speed, affordable running costs, better sheet capacity, and higher page yields which is making it worthwhile enough. Also, the HP office jet 8035 has good connectivity and 8 months of Hp instant ink.