Canon Pixma Pro 100 vs 200- The printing industry has played a crucial role in the upliftment of the entire human race. By publishing some books and articles in magazines etc. People can get to know about the ongoing world. Printing machines in their various forms have become a connecting media at the domestic level as well as international level. let's compare the two inkjet wireless printers Canon Pixma pro 100 vs Canon Pixma Pro 200.
Difference Between Canon Pixma Pro 100 and 200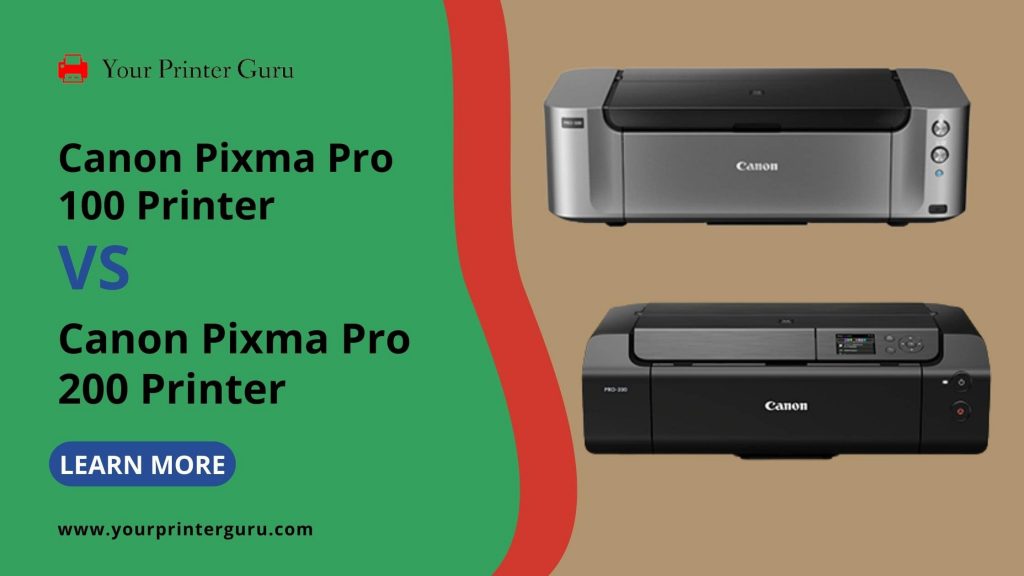 Design and Build Quality
Canon always tries to maintain a good format and build design in the printers manufactured by them. Here also in Canon Pixma pro 100 and Canon Pixma pro 200 we find a decent design and build quality with pro-level printing.
The Canon 100 has a good design with great build quality in many aspects. It has a sleek plastic body with A3 quality with two paper trays consisting of fine art and glossy papers.
It supports ICC profiles and monochrome prints full of colors are also provided. It has eight ink tanks consisting of grey, black, yellow, etc. inks and also permits the use of CD and DVD. Though it lacks an LCD screen though it's a good choice for amateur photographers who is passionate about their hobby.
The Canon Pixma 200 is quite hulking in its size and weight. With 3 inch LCD screen, a full-featured control panel with navigation buttons stands to be more compatible as per reviews. The newly processed software and the quality of the printer are worth its penny.
Printing Quality and Speed
A photo inkjet printer must be very decent and specific in its photo printing quality and clarity. And yes these two printers do their job very carefully.
Canon Pixma Pro 100 shines like a pro in the case of printing, it produces very standards and detail capturing both the bright and dark areas, covers all the contrast and every single color is visible to its best.
The borderless monochrome image works just like a professional with a worth price. The printing speed of Canon Pixma pro is 100 -it takes51 secs for an 8×10" image with an A4 border and up to 1.30 min for 11×14" for A3 with a border.
Whereas, Canon Pixma Pro 200 takes only 35 secs to deliver 4×6" borderless printing. The optimum image generating system is a unique aspect of this printer.
The OIG system improves the color tone and adds a tonal gradation and low graininess. It's also compatible with the adobe Photoshop CS and Adobe Photoshop elements.
In the case of Pixma pro 200 monochrome prints covers the original tone of colors and the super clarity of photos makes it shine like a pro. The panorama printing prints up to custom size i.e. 13"* 39".
The borderless edge-to-edge printings provide a seamless printing output within minutes. Using the canon professional print one can easily make a PPL interface which will help you to print hassle-free. Both the printer supports Ethernet and Wi-Fi printing.
Connectivity Features
Connectivity is the main aspect of any printer, this helps the printer to be more approaching and user-friendly. In that case, the two photogenic printers i.e. Canon Pixma pro 100 and Canon Pixma pro 200, both the printers have the access to Ethernet, connecting via USB and Wi-Fi connections and mobile connections such as Airprint and Morphia.
One can easily connect the printer with Android and iOS apps. Although, Canon Pixma pro 200 doesn't support direct USB printing.
Printing Cost and Page Yields
Canon is famous for its speed and quality. Here the two printers Canon Pixma pro 100 and Canon Pixma Pro 200 comes with a combination of photo editing and document layout software which creates a user-friendly interface and deliver a powerful impact of colors in the printed photos.
In the Canon Pixma Pro 100, the OIG System analyzes each area of the photo which enhances the print quality to the next level. The 8 dye-based high-quality output prints the photos just as it is in the original images. This wireless inkjet printer process the output within minutes.
The cost per print of Canon Pixma pro 100 is0.26 US $ per page for 4× 6″ pages and 0.38 US per page $ for 5×7" pages. Whereas Canon Pixma pro 200 costs 0.38US $ for 4× 6″ per page printing, and 4.00 US$ for 13×39" per page printing, which is a bit higher than Canon Pixma pro 100.
Talking about the page yields, Canon Pixma pro 100 has up to 111 pages of print, and Canon Pixma pro 200 has only 51 pages yielded for Cyan (11×14" documents) and 482 pages for 11×14 photos.
The Canon Pixma Pro 200 comes with panorama printing with a custom size up to 13"* 39". The optimized color management, effects, and quality are amazing. Speed is not a matter in this kind of printer, although it prints quite smoothly and fast.
Conclusion– Canon Pixma Pro 100 vs 200
Although, both the printers are great in many aspects compared to several points, based on their critical assessments and comparisons, the canon Pixma Pro 200 is a great replacement for the canon Pixma pro 100.
The 3inch LCD screen, the clog detection with chromite, and the 6-month attached extra ink, Wi-Fi support with borderless printing, Wi-Fi bridge support, the new PPL system and with great speed and quality, and the North light images, the Canon Pixma Pro 200 is worth its debt for the entry-level photographers in many aspects.