HP Office Jet Pro 8028 Vs 9018- The HP Office jet printers are a series of multi-functional printers made for home and office uses and specially designed for managing business and professional documents. Decorated with all the excellent specs of every feature, the multi-functioned printers offer great versatility for the office environment.
We are going to find out all the pros and cons of the two all-in-one printers, the HP Office jet 8028 and HP Office jet 9018 and will try to find out which is more suitable and user-friendly. Ok, so let's begin.
Difference between HP Office Jet 8028 Vs 9018
| Feature | HP Office Jet 8028 | HP Office Jet 9018 |
| --- | --- | --- |
| Design and Build | Beastly performance, 2.65″ touch screen | Professional design, 2.7″ touch screen |
| Printing Quality | High resolution, borderless printing | Decent quality, photo-centric printer |
| Printing Speed | 29 ppm (B&W), 25 ppm (Color) | 22 ppm (B&W), 18 ppm (Color) |
| Scanning and Copying | Auto duplex, ADF, CIS technology | ADF, CIS technology, front-facing USB |
| Scanning Speed | 8 ppm (B&W & Color) | 8 ppm (B&W & Color), 4 sec/page (Fax) |
| Page Yields | 300 pages (B), 315 pages (C) | Up to 2000 pages (B), up to 1600 pages (C) |
| Running Costs | $0.148/page (B), $0.15/page (C) | Low cost per print, high capacity cartridges |
| Connectivity | USB, Ethernet, Wi-Fi, Wi-Fi Direct, AirPrint | USB, Ethernet, Wi-Fi, Front-facing USB |
| Voice Assistant Support | Yes | No |
| PRICE | CHECK OFFER PRICE ON AMAZON | CHECK OFFER PRICE ON AMAZON |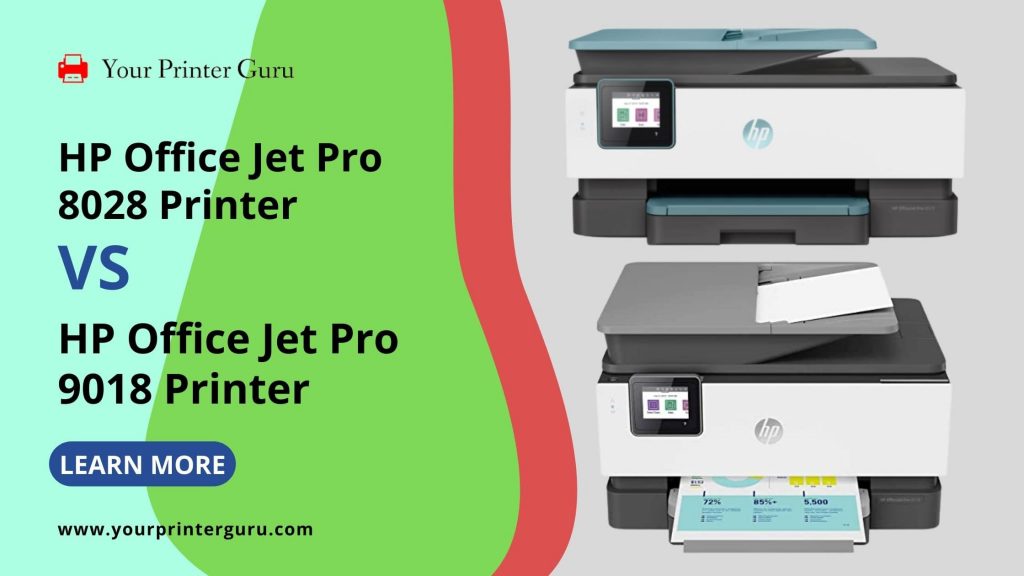 Design and build quality
The HP Office jet 8028 is simply a beast with dozens of features and stunning performance. The printer comes with a 2.65 inch touch screen display, auto duplex scanning and copying, and an ADF which helps to scan both sides of the documents easily. The Hp printers are bold in appearance and the interior styles are extremely gorgeous. In the aspect of connectivity, the Hp 8028 is also very much trustworthy.
In the case of HP Office jet 9018 perfectly delivers a professional design with elegant performance. Provided with an auto document feeder this product also supports duplex printing and has a 2.7-inch touch screen display from where one can easily manage and control all the device operations. Sadly there are no numeric keypads or function buttons available on the panel.
Printing quality and speed
The HP office jet products are supported by HP thermal inkjet print technology which brings out the high-resolution color contrast and well-defined output. The HP office jet 8028 delivers borderless printing up to 8.5 ×11" with a max resolution of 4800×1200 DPI.
Moreover, duplex printing helps to print double-sided documents more quickly but the best result can be found when advanced photo paper will be used ( 1200×1200DPI).
Talking about the speed the printer is truly amazing in its speed it prints 29 ppm ( black) and 25 ppm( color). In the case of ISO printing, the printer produces 20 ppm ( black) and 10 ppm( color) prints.
On the other hand, for the Hp office jet 9018, the HP thermal method is used as HP office jet 8028 and the print resolution is also the same as the Hp 8028 and the auto document feeder has can accommodationof 35 sheets.
In the case of holding paper, the input tray can hold up to 250 sheets on a single tray. The quality of printing is mediocre and speed is also moderate with manageable page yields. The print speed it offers is 22ppm ( black) and 18ppm( color) which is good for entry-level.
Scanning and copying
Aside from good printing features the HP office jet printers are also good in scanning and copying along with Faxing. The Hp office jet 8028 and HP office jet 9018 use CIS technology to scan documents. The Hp office jet features optical character recognition, scans to the cloud, and mane smart tasks with high accuracy.
As mentioned above, both of them are furnished with auto duplex scanning for more efficient working. The printer also lets you copy documents at a high quality of 600 DPI and 99 pages at one time. It also supports ID card copy, resizes, and duplex copy, and much thanks to the ADF for auto paper flipping. It scans up to 8ppm( black) and 3.5ppm ( color) and copies up to 29 ppm.
Coming to the Hp office jet 9018, it also has CIS technology and ADF scanning methods. The connectivity to scan, copy, or fax is very convenient to the users and helps them to access the printer more quickly.
The scanning speed is 8ppm( black and color) with a max resolution of 1200×1200 DPI. In the case of Fax, it also comes with a max resolution of 300 ×300 DPI. The speed of transmission is 4 seconds per page with a memory of 100 pages. It also features busy redial, junk fax blocker, adding group dial, etc. which are the most important matters for small and big business.
Printing cost and page yields
The HP Office jet 8028 all-in-one printer uses individual cartridges which consist of Black, Cyan, Magenta, and yellow. It uses the HP 910 cartridge and for replacement one can easily use the HP 910XL which comes with a higher yielding up to 825 prints ( black and color). The page yields are 300 pages ( black) and 315 pages ( composite). The printer runs at a very low cost. It will make you
spend around 14.8 cents per page ( black) and 15 cents per page ( color). In the case of occasional printing, the cost will decrease.
Talking of the HP Office jet 9018, it always delivers good quality output at a low cost per print. It is a photo-centric printer that brings not only good photos but also great quality.
The model runs with the HP 962XL high capacity cartridges which can yield up to 2000 black pages and 1600 color pages. But if anyone wants to get a much higher quality they can buy the HP 962 which will provide you up to 1000 pages of black and 700 pages of color prints.
Connectivity features
Hp printers are decent in their connectivity and setup procedures. The HP office jet 8028 is compatible with standard interfaces including USB, Ethernet, wifi, and Wi-Fi direct. Truly speaking both the printer is very user-friendly and has good connectivity options which can easily be connected with smart phones and table.
But unfortunately, the printer lacks Bluetooth and external storage for direct printing from the SD cards. This wireless printer also connects with the Apple Air Print and Morphia.
On the other hand, the HP office jet 9018 also has matured connectivity with both wired and wireless functions. In the case of wired connectivity it is compatible with a High-speed USB port, a high USB and Ethernet port, and wireless it is supported only by Wi-Fi. Sadly there is no Bluetooth and NFC.
Along with the USB port for connectivity, the Hp office jet Pro 9018 is furnished with a front-facing USB for direct printing and it also can be paired with the Apple air print and Morphia.
Conclusion– HP Office Jet Pro 8028 Vs 9018
The HP office jet model offers great printing speed and quality with decent design and connectivity for home and small businesses indeed. To be precise, both the printers have decent print quality with moderate printing speed.
But the HP office jet 8028 is more friendly for its voice assistant support, good software facilities and of course high printing quality. Although the Hp office jet offers a great printing speed and great price its unhelpful technical support and bad input capacity make it unworthy.