Over time the world has changed a lot, people have also nurtured themselves.By the time,technology has surrounded us in all aspects from morning to night and we can't even live without technology.
In almost every sector people needs basic printers to run the work proceedings. let us talk about the two multi function printers HP envy pro 6455 and HP envy pro 6458 which are mainly designed for home and office printing purposes.
Difference Between HP Envy Pro 6455 and HP Envy Pro 6458
HP Envy Pro 6455
---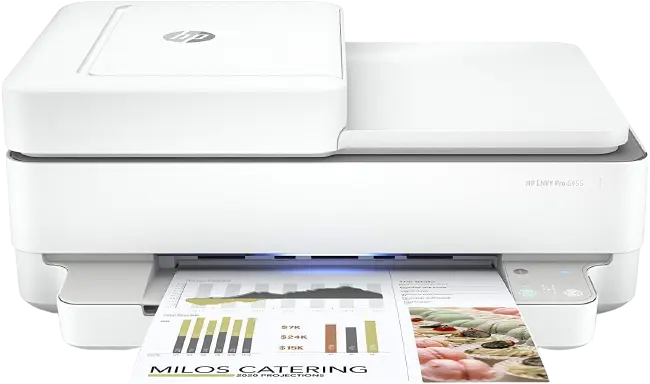 Connectivity: Bluetooth, WiFi, USB
Duplex: Automatic
Printing Speed: 10 Pages Per Minute
Dimensions: 17.03 x 14.21 x 7.64 inches
HP Envy Pro 6458
---
Connectivity: WiFi, USB
Duplex: Automatic
Printing Speed: 10 Pages Per Minute
Dimensions: 18.03 x 18.35 x 17.95 inches
HP Envy Pro 6458 vs HP Envy Pro 6455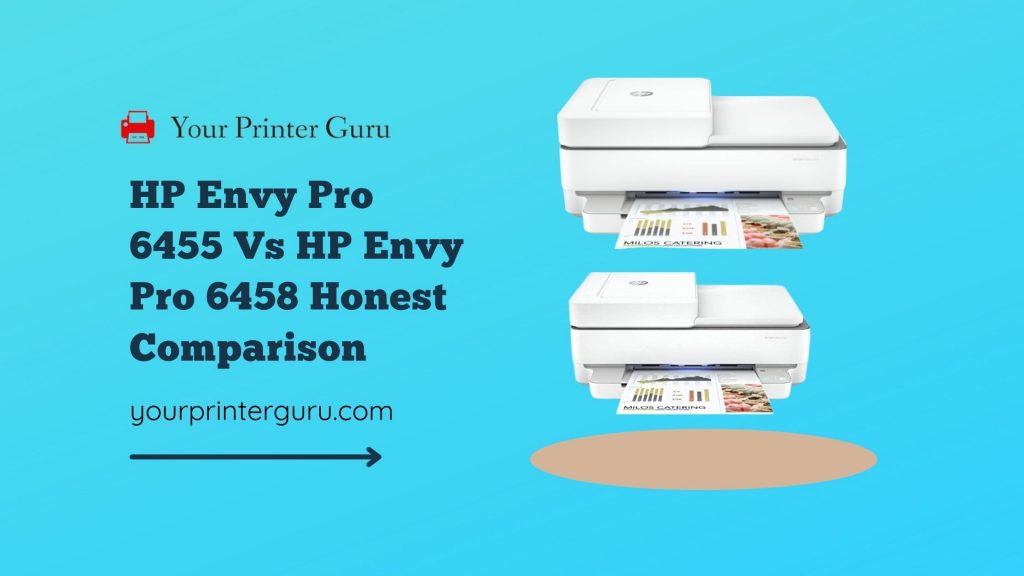 Design and Build Quality
This range of Hp envy pro has been specially designed for office and domestic uses. Both of the printers i.e. Hp envy pro 6455 and Hp envy pro 6458 has great build quality with vast features and the best connectivity.
They both don't have any display screen, the plastic body feels sturdy, and there are buttons with LED lights which helps to run the printer following different commands like copy or print.
The Hp envy pro 6455 has a removable cord and input trays have width sliders to adjust different paper volumes but can extend themselves for more big papers. There are two ink cartridges in these printers one is black and one is tri color.
These multi-functioned printers have fax and scanning quality too. The HP envy pro 6458 comes with a 35-page auto document feeder with a dynamic security system. The border less printing is just a stunning feature of these two printers, which attracts the customers.
Printing Quality and Speed
Printing quality makes a printer more famous, and mostly when it's the case of all-in-one printers, printing plays a crucial role here. The Hp envy pro 6455 had a great photo printing quality must say.
The colors, dimensions, and vibrant tinge of black and bright color produce a well-defined photo.Although the printing speed of HP envy pro 6455 and HP pro 6458 is same 10 ppm( monochrome) and 7 ppm ( color).
The printers comes with the instant ink which creates vibrant color, and moderate graphics. Printing more and more pages will make the page per print lower .
Scanning Quality
Both of the printers have an automatic document feeder and flatbed scanner. In HP envy pro 6455 the OCR technology is great in the case of searching documents, it will help you to search, copy and edit the texts in the images, the mistakes may take place in the case of special characters.
The scanning speed is quite dis-satisfactory. One can also scan documents from the device camera and print them and can make files from an Android or iOS device.
The scanning quality of Hp envy pro 6458 is stunning. The flatbed scanner makes the scanning process smooth and hustle-free it lacks the duplex scanning that Hp envy pro 6455 has.
But, It also has a decent scanning speed. The quality of photo scanning is next level. As a multi-functioning printer Hp printers are really trustworthy.
Printing Cost and Page Yields
The cost of printing is not a big issue if the printing quality is good. Although high printing costs may lead to a bad impression on customers. The cost of printing in Hp envy pro 6455 is quite good but the cartridges are costly.
The page yield of HP envy 6455 is almost 124 pages ( black) and 64 pages(color) and the HP envy pro 6458 yields a bit lower 120 pages ( black original ink)and 100 pages (color original ink).
Both the printers cost page print is almost same i.e. 3.5 cents per page( monochrome and color with instant ink).In the case of high use, you need to buy more and more cartridges which will cost huge debts.
One can also sign up for the Hp instant ink which will send you to ink automatically when you are finished. The Hp envy pro 6458 uses Hp original circuitry, modified or other circuitry might create a problem to run the printer. Although the high-quality color and printing performance are great in HP printers.
Connectivity Features
Connectivity makes a printer more acceptable to customers. Here both the device supports high-speed USB input to the computer, built-in WiFi, and great mobile scanning and printing facilities. The high-speed USB makes people easier to print flawless printing with vibrant color contrast.
Hp envy Pro 6455 comes with Bluetooth connections and an Ethernet facility with high-quality scanning, although it takes much time to print but is worthy to see such stunning scanned documents after investing time.
Whereas the Hp envy pro 6458 lacks an Ethernet connection the scanning quality is great. Both the printers have a great mobile communication system, one can use it through Hp smart app, Airprint, and Morphia.
Conclusion- HP Envy Pro 6455 Vs HP Envy pro 6458
Hp all in one printer is a series of printers that produce high-quality photos with brilliant color effects and affordable prices. The Hp envy pro 6455 and Hp envy pro 6458 almost matches the basic criteria but there are many specific differences listed above.
Although the printing, scanning, and fax quality is better in Hp envy 6458 it lacks the Ethernet and Bluetooth connection that Hp envy 6455 has.
Although choosing a printer is absolute up to consumers' needs and requirements, hope these articles will help a little to understand the basic differences and specifications of the products which will assist you in further proceedings.