HP Deskjet 2722 vs Deskjet 2725 – The HP Deskjet printer produces high-quality images with decent colors. They are super-fashioned in design and build quality, and they are specifically made for home or small business purposes. In this article, we are going to compare two HP Deskjet printers, Hp Deskjet 2722 and 2725. So let's see and show how they are different from each other.
HP Deskjet 2722 vs Deskjet 2725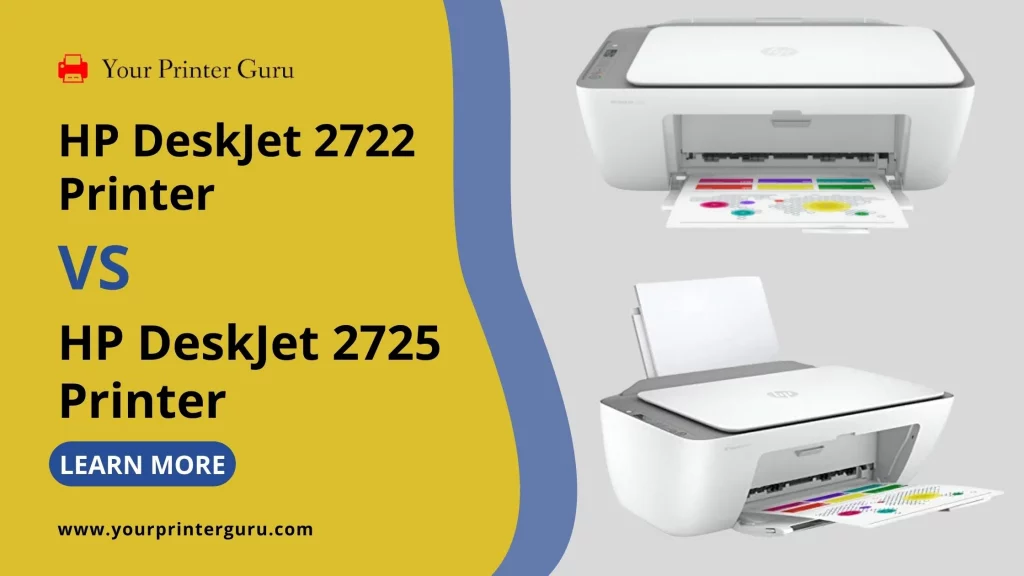 Design and Build Quality
The HP Deskjet 2722 printer has a bad build quality and design. The paper tray also doesn't hold much paper, and paper jams can only be accessed through the front side, and the scanner lid cannot be raised much to fit thicker items. The printer comes with a small LCD screen of 1.2 inches and it doesn't touch sensitive. Moreover, it can't be tilted for better viewing. Additionally, it has icons to indicate Wi-Fi connection, ink levels, etc.
The HP Deskjet 2725 has a mediocre design with a 60-page input tray and a small LCD display that is not touch-sensitive but has many navigation buttons to check tasks. The setup process is much easier and has the eligibility of an HP ink subscription. The printing quality and connectivity are great on this printer.
Printing speed and quality
In terms of printing speed, both printers are bad in their performance. The HP Deskjet 2722 has a slow printing speed, both in black and color. The input tray only holds 60 pages, so one needs to fill the trays more often. Also, there is no auto document feeder and duplex scanning, so one needs to flip the pages manually, which will be time-consuming.
It has a speed of 5.5ppm ( black) and 7.5ppm ( color). The printing quality is kind of moderate as the colors are not very vibrant and the blacks are faded. The color accuracy is also poor, and most of the colors are much different than the original ones.
On the other hand, the HP Deskjet 2725 has a thermal inkjet printing method with a monthly duty cycle of 1000 pages. The printer is decent for its price, but high-quality prints are not suitable for it. The color accuracy is bad and it doesn't have an auto document feeder or duplex printing, so the printing experience is not smooth enough. It has a printing speed of 7.5 ppm ( black) and 5.5 ppm ( color).
Scanning features
The HP Deskjet 2722 scans in a passable quality and the resolution are high enough to produce nice scanned photos. Sadly, the scanner lid can't accommodate thick items and the absence of ADF and duplex scanning can't make the scanning experience better. It has a scanning speed of 2ppm (black and color) and can copy with OCR technology.
On the other hand, the HP Deskjet 2725 has CIS scanning technology, which can scan up to 1200×1200 DPI, and as it doesn't have duplex scanning or ADF, it creates hurdles in the way of flawless scanning. It also has a copying feature that can copy up to 9 copies with a resolution of 300×300 DPI.
Page yields and printing costs
Both printers have a moderate cartridge system along with a good page yield. The HP Deskjet 2722 has a bad cartridge system, so it yields fewer pages and you need to replace them more often to keep it running. It offers 119 pages (black) and 61 pages (color) estimated. It also has a relatively high operating cost. Although the cartridges are affordable, the cost of replacing them often boosts the cost. It costs 0.134 US per page printed (black) and 0.279 US per page printed (color).
The HP Deskjet 2725 has two ink cartridges (black and tri-color). It has a good page yield for both black and color, i.e., 120 pages (black) and 100 pages (color). One can also use high-yield cartridges to get more and more page yields. But one thing should be kept in mind: most of inkjet printers use black ink for servicing tasks, so one needs to replace the cartridges more often. It also has fewer running costs than the HP Deskjet 2722.
Connectivity features
HP printers always come with decent connectivity options. The HP Deskjet 2722 has Bluetooth, USB, Wi-Fi, Wi-Fi Direct, etc. It also supports Apple Air print and Morphia print service. In addition, the HP Deskjet 2725 has nearly identical connectivity options, but it can print from a USB or SD card.
Sadly, both printers don't have Ethernet. Both of them have easy access to the HP Smart app, from where they can easily monitor all the essential tasks such as copy, printing, and checking the ink levels.
Conclusion – Difference between HP Deskjet 2722 and Deskjet 2725
The HP Deskjet 2722 and 2725 are quite similar printers in many aspects, as they match many of their specifications. They have similar designs, display screens, connectivity options, scanning features, etc. The HP Deskjet 2725 yields a bit more pages. On the other hand, 2722 gives better quality photos and has Bluetooth for better connectivity.