Epson 4700 Vs 2720- Purchasing a new printer for your household or business purpose might look like an easy task until one realizes the vast options and the interlinked decisions.
In this new era of a fast-going world, to step up with the new Genz people need to be more trendy and updated. An all-in-one printer does the job very efficiently in that case.
It can serve all your purpose, like saving space, time, money, and of course connectivity which is the main feature of these multifunctional printers. Let's make a comparison between the two multi-functional printers i.e. Epson ET 4700 and Epson ET 2720.
Difference between Epson 4700 and 2720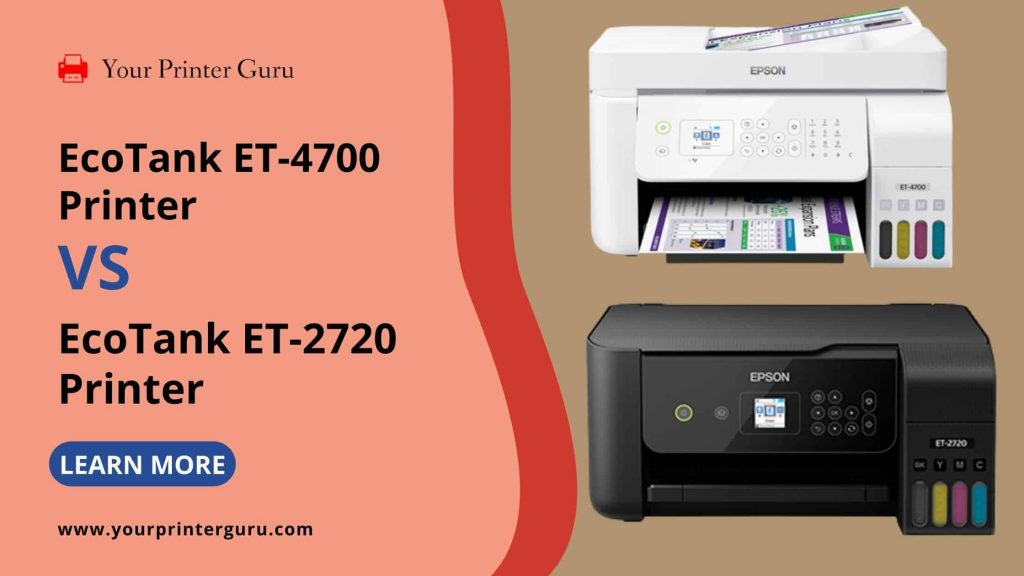 Design and Build Quality
Both the printers have a decent design with an underneath display screen. The flimsy output tray makes it difficult to access the jammed papers for getting them recovered. Both of them are quite lighter in weight and consume less space which is a great advantage.
Epson ET 4700 comes with a LED touch screen with a mediocre design panel. The process of navigation is quite easier and mostly passable.
The scanner lid can be extended so that one can scan larger things such as books and magazines very easily. Epson ET 2720 has a passable screen with buttons and the display quality is good which allows you to watch the screen with any posture whether you are standing or seating.
The underneath door to access the jammed paper is quite difficult. The scanner also faces difficulties while scanning bulky books and magazines. Though, it's easier to load paper and ink to this printer.
Print Quality and Speed
Print quality and speed are the main two aspects of any printer in these two printers, have a quite manageable and moderate quality of printing with no doubt poor speed.
Both have gray-scale and a tinge of color fade issues. The Epson ET4700 has 10 ISO ppm (black) and 5.0 ISO ppm (color), whereas the Epson ET 2720 has 10.5 ISO ppm (monochrome) and 5 ISO ppm (color).
Comparatively, Epson ET 4700 has a bit of poor printing speed as compared to Epson ET 2720. Though in the cases of occasional photo print Epson ET 2720 can easily go for it without thinking twice, though the colors are also not that much accurate.
The first page doesn't take much time to print, but in the case of color print, it will take a bit longer time. In Epson ET 4700, the scanning photos are better than printing photos. Speed is also much slower than any other printer, with a lack of detail which might not be good for any professionals
Scanning and Copying
Scanning documents is the most necessary thing for professional printers as well as for educational purposes. These two printers serve this needs with due respect.
The Epson ET 4700 has an impressive scanner with a flatbed and automatic document feeder to process paper documents faster. Whereas the Epson ET 2720 lacks these qualities as the scanning quality will dishearten you in many aspects, as it has only a flatbed scanner and no auto document feeder in that case you have to flip the pages manually for double side scanning which is time-consuming.
The Epson ET 4700 supports a fax system which is a very important option for office use. You can save the documents in Epson scan 2 software easily without hustle.
Printing Cost and Page Yields
The two printers have quite extraordinary super tanks with high-capacity ink tanks. Both of them have four tanks which you have to refill by yourself. And both the printers need black color a lot which you need to fill the tank accordingly.
The Epson ET 4700 and Epson ET 2720 costs the same0.3 cents per page print (monochrome) and 0.3 cents per page ( colored). You have to spend a lot to print photos and especially color photos.
But if you print more and more then these two printers will help you a lot to cut the expense of your per print cost. In the case of refilling the tanks, one can buy the ink bottles separately.
The monthly duty circle of both the printers is almost 5000 pages. Both of the printers have great photo quality with a great tinge of colors, while Epson ET 4700 runs a bit clear in color effects.
Connectivity Features
One of the main points of buying a printer is the swift connectivity which will connect the device with other systems and make the printing, and the scanning process more soothing and fast. Both the printers have moderate connectivity.
Epson I print app has done a great job in the case of printing via these multifunction printers. Although, they both lack external storage support i.e one can't access the USB facility in these two printers.
Epson ET 2720 offers you to use it via Wi-Fi, and Wi-Fi direct, or through a mobile app, you can use it through Air print or Morphia Print service.
Epson ET 4700 comes with the Ethernet connection which you will not get in Epson ET 2720, and also mobile users can use it via the app Airprint and Morphia.
Epson 4700 vs 2720 for Sublimation
Both these two printers can be used for sublimation. In order to transform Epson Ecotank 4700 and Epson Ecotank 2720 into sublimation printers, simply buy refillable cartridges and sublimation ink.
Finally, change out the cartridges to make them a sublimation printer. To get reliable sublimation printing, go for Epson 4700.
Conclusion– Epson 4700 Vs 2720
To be very genuine, through these detail side by side comparisons some differences have been pointed out that – although The Epson ET 4700 and the quite same in their qualities, in all aspects Epson ET 4700 gets the crown for some better reviews and better responses by the users.
The sheet-fed scanner and the Ethernet add one more point to its bag which Epson ET 2720 lacks. Considering a printer is entirely up to customers' choice according to their needs and requirements. Hope this information will help you a little bit in taking the decisions.