Epson ET 3750 vs 4750- Dissimilar to a casual inkjet printer, Epson Eco Tank printers basically banish the huge need for ink cartridges with their distinctive refillable ink tank system.
Today we are going to discuss the two Epson printers, the Epson ET 3750 and 4750, which are completely affordable multi functional printers used for high volume printing and save a lot of money. Let's see if there are any differences between the two printers.
Epson ET 3750 vs 4750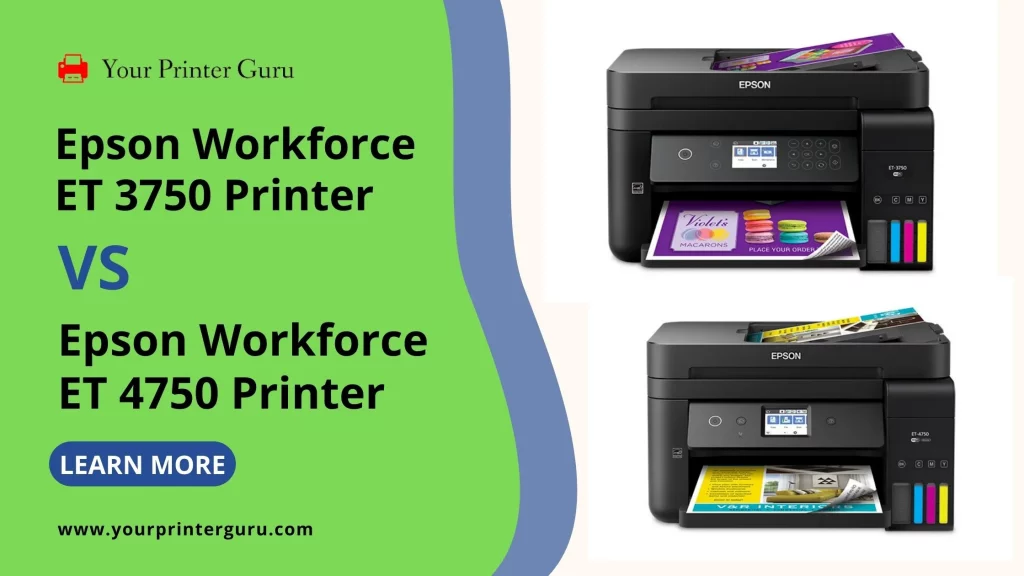 Design and build quality
Coming to the design, both the printers are very similar in their design and build quality, but there are a few differences too. The Epson ET 3750 and 4750 come with a 2.4-inch colour LCD display.
Additionally, the Epson Et 4750 has a touchscreen display, which the Epson Et 3750 lacks. In the case of the paper input tray, there is also variety.
The Epson ET 3750 has a 150-sheet capacity input tray, but the Epson ET 4750 has a 250-sheet capacity. Moreover, the Epson ET 4750 has a premium faxing facility. Both the printers have great printing quality with enhanced connectivity.
Printing quality and speed
In terms of printing quality, both the Epson ET 3750 and Epson ET 4750 have standard printing features. The Epson ET 3750 has a sharp colour printing facility with bright and bold colours.
The paper capacity of the Epson ET 3750 is 150 sheets, and the duplex printing with borderless texts makes the printing experience smoother. It has a speed of 15ppm ( black) and 8ppm (color).
The Epson ET 4750 has good printing quality along with speed. The Epson Eco tank printers are economically good in performance. It has a 250-sheet input tray and duplex printing, which makes the printing experience faster and more accurate.
The photo printing is quite slow, but the text printing is good. The printer performs well on plain paper rather than glossy paper. It has a speed of 16.3ppm ( black) and 5.2ppm ( color).
Scanning and copying
Both the multifunctional printers have decent scanning , copying, and faxing features. The Epson ET 3750 and Epson ET 4750 come with CIS scanning technology along with flatbed and ADF scanners. The ADF scanner accommodates 30 sheets .
Unfortunately, it doesn't have the duplex scanning and copying feature. It can scan with a max resolution of 1200 1200 DPI (both flatbed and auto document feeder).
The printer offers scanning file formats in PDF , JPG, PNG, etc. Both the printers can also copy at a speed of 11cpm ISO (black) and 5.5ppm ISO (color), and they both come with a faxing facility with standard faxing up to 100 pages.
The Epson ET-4760 has a slow scanning problem. Scanning high resolution photos takes a lot of time, but the results are stunning. Such as delivering a colour 600 DPI photo, it takes about 1 minute 42 seconds to make it.
But the duplex scanning is much faster. Both devices are Windows and Mac compatible. Two printers have a limited warranty of two years.
Page yields and printing costs
The Epson Eco Tank printers have improved in their Eco Tank system . The ink tanks are located on the front of each printer. Both the Epson EcoTank 3750 and 4760 have cheap printing costs and great page yields.
Each of the ink bottles has an auto-stopping feature which indicates to the user of the tank position whether it is full or not, and this will help users to prevent inaccurate ink fillings. The cartridge-free unique feature of the Eco Tank printers provides enough ink for two years.
Both the printers have two black ink tanks and three colour ink tanks, which can yield approximately 14000 pages (black) and 11200 pages (color). The huge page yield helps to go a long way in printing for small and medium businesses.
Both the printers have an extremely low cost per print. The yield replacement of bottles gives a good number of page yields. The per page cost will run lower than 1 cent for both black and colour pages.
Connectivity features
The Epson Eco Tank printers are also moderate in terms of connectivity features. The Epson ET 3750 and 4750 come with Ethernet , USB , WiFi, WiFi direct, etc. Also, mobile printing is supported via Epson connect , Epson Email Print , Epson Iprint Mobile app etc.
Cloud scanning is available on both the Epson printers. But unfortunately, one cannot scan through the mobile app and, additionally, both the printers don't support PostScript printing. They also include host-based printing.
Conclusion– Difference between Epson ET 3750 and Epson ET 4750
Both the above-mentioned printers are very similar in their specifications and performance. But the Epson ET 4750 comes out to be a more suitable choice as a multifunctional Eco Tank printer for its touch screen, better input capacity, fax modem, ADF duplex printing, extremely low running cost, wired and wireless connectivity etc. Although the scanning of the Epson Et 4750 is a bit disappointing compared to the Epson ET 3750.