The portable photo printer is a kind of printer that can be carried over everywhere and one can just print anywhere anytime with just connecting Bluetooth. Moreover one can add texts, borders, and emojis through the app.
Canon Selphy portable printers are of the leading printers, which are known for their high-quality prints and vibrant colors. Here we are going to compare the two most well-known Canon portable printers i.e. Canon Selphy square QX10 and Canon Selphy CP1300 and will see their matches and mismatches accordingly. So let us get into it.
Difference between Canon Selphy Square QX10 and Canon Selphy CP1300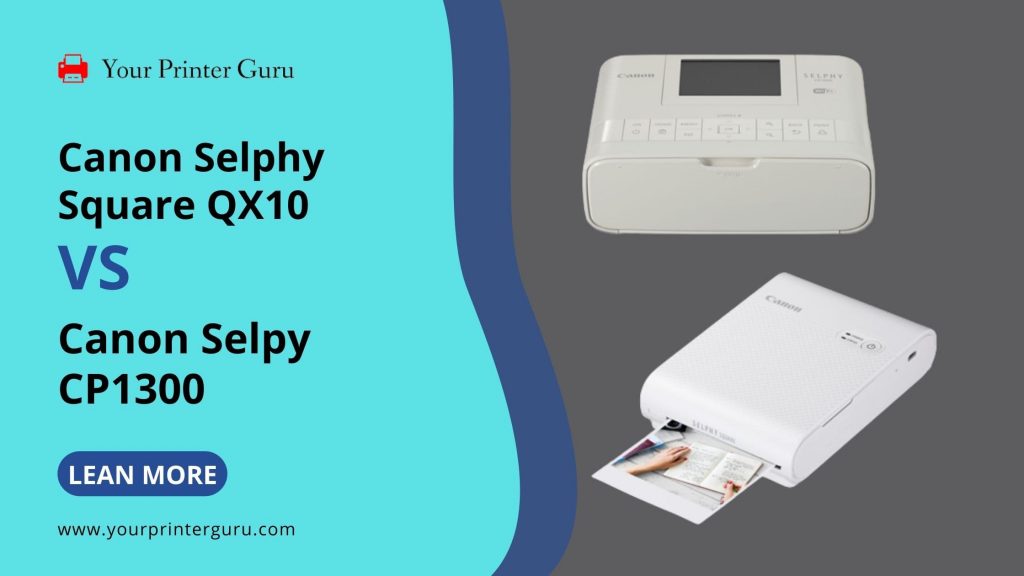 Design and Build Quality
The Canon Selphy CP1300, available in white, pink, or black is a portable photo printer that creates prints up to 6×4" based on dye sublimation technology.
It has multiple operating buttons. The tilting 3.2-inch color LCD screen is the most attractive part indeed. It has USB ports and Pict bridge which smoothen the connectivity.
Whereas, the Canon Selphy Square QX10 has no display with a single operating button and two LEDs for indicating charging and status. It is available in black, white, green, and pink editions.
The style statement of this printer is really good and tidy which creates 2×7" photos. It has Wi-Fi direct which Canon Selphy CP1300 lacks.
Printing Speed and Quality
Both the printers have decent color accuracy with vibrant contrast. The canon Selphy square Qx10 and Canon cp1300 are pocket printers. It has 20 sheets of photo paper in a paper tray which can be accessed from underneath.
It has a dye-based sublimation technology and there are four-time print procedures in which the print passes through Cyan, magenta, and yellow dyes and at last a protective coating.
As a portable printer, the Canon Selphy Square QX10 has a built-in rechargeable power back and it can print up to 20 photos and takes 47 seconds to print. 
The Canon cp1300 also has rich color contrast and the printing details are also moderate. The color rendition is very much vibrant and plenty of depth is available in black along with the highlights.
The speed is also pretty good and takes 43 seconds to print. Image quality is also decent with plenty of depth in blacks along with vibrant color rendition.
Features of Ink
Both the printers gave great ink capacities with a fixed number of prints from each dye cassette. The Canon QX10's media pack of 20 contains both the dye cartridge and 20 sheets of photo paper which is sold accordingly.
The canon color ink and label XS 20L packs will cost around £15 or £16. The page itself is 72×85 mm and the image size is 68×68 mm or 2m7×2.7 inches, and it will create a thin border and a wider 17 mm strip at the bottom.
The paper also has a peel-able backing, so one can easily remove this to disclose a self-adhesive surface which is ideal for sticking the print to any kind of surface.
In the Canon cp1300, you will find a dye sub technology which is a common feature in almost every portable photo printer. The print passes through the printer four times to create a spectacular print.
The first three layers are the layers of cyan, magenta, and yellow last of all it is followed by final over-coating. The print resolution will of 300 DPI which is not as good as a common inkjet printer. With a common inkjet printer, every dot is created by different layers of dye on top of each other.
Printing Costs
Printing costs of both the printers are pretty well. The Canon cp1300 is comparatively cheap which is based on KP-1081N media packs contains multiple dye-sub cartridges and has 108 sheets of paper.
There are also many media options including glossy or semi-glossy postcard papers. The paper has perforated side strips and one can easily remove these and create a borderless photo print.
The media option of this printer includes semi-gloss and glossy postcard paper, 50×50 mm square stickers, and 22×17 mm mini stickers. Per print will cost about 80 /75 cents.
On the other hand, the Canon cp1300 creates much large 4×6" prints than the QX10 2.7" prints. And mostly cp1300 takes 47 seconds to print. The running cost is very low around almost 29 cents per print.
Connectivity
Both the printer is based on dye-based sublimation technology. They are fully portable wireless printers, to be more precise the Canon Selphy square QX10 has built-in rechargeable power back USB but nothing to connect directly with the computer. As compared to QX 10 the cp1300 has better connectivity with USB and USB direct.
The Canon QX10 is designed for printing from mobile and other smart devices and features USB directly. But there is no Bluetooth system, unfortunately.
But in Canon Selphy Cp 1300 one can easily access the printer through a computer and also connect with any kind of cloud-based printing. But it also lacks Bluetooth.
Conclusion– Canon Selphy Square QX10 Vs CP1300
To conclude, we can say that the Canon Selphy Square QX10 proves to be a perfect travel companion through which one can print images anywhere from a phone or any smart device through Wi-Fi direct but the Canon cp1300 has much more connectivity options than QX10.
The canon cp1300 is much more acceptable and user-friendly than Canon QX10 as it has more connectivity options and is eminently portable with many features and low cost per print. As compared to QX10 the canon cp1300 is much more versatile for its better price and cheaper running costs.