Canon MAXIFY GX7020 Vs GX7021- Canon printers provide printing experiences at their best level. The Canon MAXIFY all-in-one printers are worthy enough to perform all tasks smoothly and with due accuracy. The Canon MAXIFY GX7020 and GX7021 come with almost the same specifications and working capabilities along with decent connectivity options. In this following article, we will try to elaborate on all the specific points and will discuss them accordingly. So let's get started.
Difference between Canon MAXIFYGX7020 vs GX7021
Both printers resemble very much in many aspects. The Canon MAXIFY GX7020 and Canon MAXIFY GX7021 are both wireless all-in-one printers with almost the same characteristics. Although the Canon MAXIFY GX7020 is a bit better than the other as it is more compact and has good printing speed borderless printing along with connectivity.
Canon MAXIFY GX7020 Vs GX7021 Detailed Comparison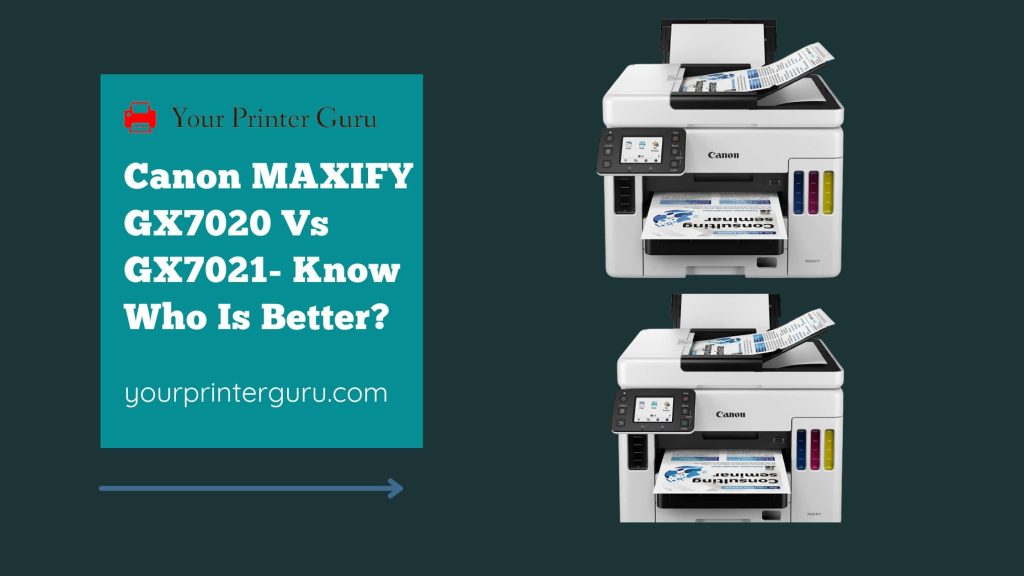 Design and Build Quality
In terms of build quality and design, both printers are very much compact and user-friendly. The Canon MAXIFY GX7020 and GX7021have a solid body with well-built input trays and adjustable sliders according to different paper sizes. The Canon MAXIFY 7020 has a touchscreen display of 2.7 inches which is quite impressive as it has responsive navigating buttons around the control panel. On the other hand, the Canon MAXIFY GX7021 also has a 2.7-inch color touchscreen display with printing, copying, scanning, and faxing facilities. Both printers are very user-friendly and convenient in printing costs. They are compact in their design and have superb printing speed, quality, and connectivity.
Printing Quality and Speed
Both the Canon MAXIFY GX7020 and GX7021 come with superb performance along with decent printing speed. Both of them have 600 sheets of input tray with remarkable color accuracy and the duplex printing helps to print the double side documents more quickly. The Canon printers are equipped with such credentials to create mesmerizing photos with vibrant color combinations.  The color accuracy and sharpness are really great along with the i. They also have almost the same speed in both black and color printings. Both have a printing speed of 24ppm ( black) and 15ppm ( color).
Scanning Features
Canon printers have incredible scanning qualities and copying features. The Canon MAXIFY GX7020  has a flatbed scanner for scanning with decent resolution and color accuracy. Though it has an ADF scanner its works a bit slower the duplex scanning makes it faster. The ADF can hold up to 50 sheets of paper. The Canon MAXIFY GX7020 and GX7021 have a scanning speed of 3ppm and 4ppm (black and color) respectively.
Printing Costs and Page Yields
The Canon MAXIFY GX7020 and GX7021 come with well built super tank system consisting of large ink tanks rather than cartridges. As the printer yields a decent number of pages so one doesn't need to change it often even if someone prints a lot. They have a nice cost per print in both cases of colored and black and white prints. It yields about 14000 pages ( color) and 7000 pages ( black). It costs less than 2 cents per page to print both color and black and white documents which is really cheaper. Both printers are equipped with great super tanks to print documents more quickly at decent costs.
Connectivity Options
Connectivity makes a printer more acceptable to others. Here the Canon MAXIFY GX7020 and GX7021 can print directly from USB keys. Both of the printers have Ethernet, Wi-Fi, Wifi direct, and other wireless supports. They are also compatible with the Canon PRINT Inkjet/SELPHY app. From there, you can print, scan, and copy directly from your mobile device, view information about the printer and its ink levels, and even order refills.
Conclusion– Canon MAXIFYGX7020 Vs GX7021
To conclude we can say that both printers are very much similar in all aspects. Both the printers are decent in printing quality, scanning, faxing, and connectivity features. But the Canon MAXIFY GX7020 is better than the others as it has borderless printing, fast printing and scanning speed, etc. Although the Canon MAXIFY GX7021 has superb faxing and copying speed.