HP Officejet Pro 9010 vs 9015- HP printers are known for their decent designs and low running costs. The HP Officejet Pro printer series are specifically  designed for home and small business purposes. We are going to discuss the two printers, HP Office Jet Pro 9010 and 9015, and will try to find out their pros and cons. So let's get started.
HP Officejet Pro 9010 vs 9015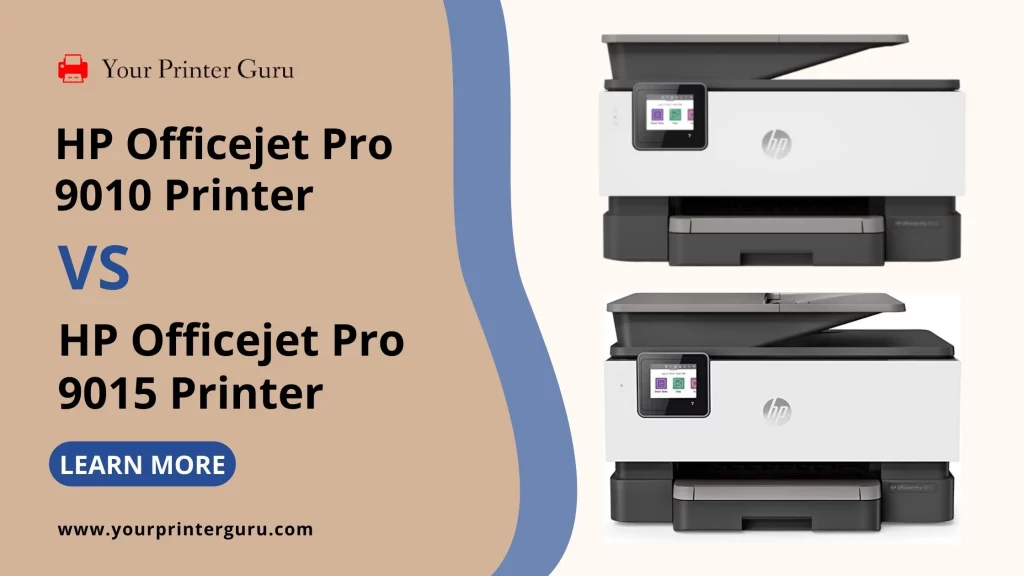 build quality and design
Both the HP printers come with a moderate design. The HP Officejet Pro 9010 has a 2.65-inch colour display with all the functions that can connect it with the HP Smart app. It has a 250 sheet input tray and it can accommodate almost all size of papers and the border-less printing makes the printed pages more stylish.
The printer supports both duplex scanning and printing with outstanding connectivity features, along with the voice assistant service of Alexa and Google Assistant.
The HP Officejet Pro 9015 offers a solid grey body with a 2.7-inch touch screen display. The scanner lid can be tipped significantly to accommodate thick items, and the front paper tray is not much easier to open or close.
Mostly, the display screen has great visibility from all angles. The touch controls are very responsive and also provide audio feedback.
Printing quality and speed
When it comes to printing quality, both the HP Office Jet 9010 and 9015 work fine. The HP Office Jet Pro 9010 creates stunning prints at a considerable price.
The colour accuracy is also much clearer and more detailed. As it has the auto document feeder, the printing experience has to be better. It delivers prints at a speed of 22 ppm ( black) and 18 ppm ( color).
When it comes to the printing quality, the HP Office Jet Pro 9015 also has great printing quality along with speed. The colours are vibrant and well defined. Most of the colours are very accurate, but some tinge of blue is there, but the duplex printing saves a lot of time. As it has  250 sheet input tray, in the case of lots of printing, one doesn't need to refill it often. It has a speed of 16 ppm ( black) and 13 ppm ( color).
Scanning features
The two HP printers have great scanning features. The HP Officejet 9010 has the facility of scanning , copying, and faxing. It has a 35-sheet ADF scanner, on which the scanner lid can be lifted to fit thick items.
Sadly, it doesn't have duplex scanning . The scanner can process up to 8 ppm ( black and color). It performs all the copying and faxing facilities with the OCR technology..
The HP Officejet Pro 9015 also has excellent scanning capabilities, including a 35-page auto document scanner and duplex scanning, which contributes to increased productivity.
One can also save the documents as PDFs and can copy and edit the saved documents easily. It has a default scanning resolution of 300 DPI, but it can be expanded to 1200 DPI. It has a scanning speed of 10ppm ( black and color).
Page yields and printing costs
Both the printers have great running costs along with good page yields. The HP Office Jet Pro 9010 has four ink cartridges, of which the black one produces the most, around 2000 pages for less than 10 US dollars, and the monthly duty cycle is 25000 pages. Overall, it can be said that the printing experience is quite comforting, along with the running costs.
The HP Office Jet 9015 has a great cartridge system which yields a good number of black and colour pages before replacing them. One can also use third-party cartridges for better yields. It yields 1158 pages ( black) and 723 pages ( color) estimated.
The printer also has a low cost per print as the black text documents are very affordable and the colour prints are also cost-effective. One can also get the HP Instant Ink subscription for an automatic ink supply. It costs 0.028 US per print ( black) and 0.089 US per print ( color).
Connectivity features
The two HP printers have decent connectivity options. The HP Office Jet Pro 9010 and 9015 printers support Ethernet, USB, Wi-Fi, Wi-Fi direct, voice assistant Alexa, and HP Smart App, making them more appealing.
They also support Apple Air Print and Morphia Print services. Although both of the printers don't have Bluetooth, the other features are much too tempting to make them appealing.
Conclusion– Difference between HP Officejet Pro 9010 and 9015
Overall, the HP Officejet 9015 is a superior all-in-one printer to the HP Officejet pro 9010. The HP Officejet Pro 9015 has better printing quality, scanning speed, ADF and duplex scanning, and affordable running costs, making it worthwhile enough. Also the HP office jet Pro 9010 has better page yields and stunning printing speed.