Owning a printer that can meet all your needs including printing, scanning, copying, and sending documents are also more cost-effective. Although even if you think you can save money by buying the cheapest printer, a multipurpose printer might have a better return on the investments depending on your day-to-day needs. Most interestingly a single device can do all. The tasks precisely, with saving some space too. Let's see the two HP multipurpose printers HP desk jet 2710 and 2720 and let's compare their specification and features accordingly.
Difference Between Hp Deskjet 2710 and 2720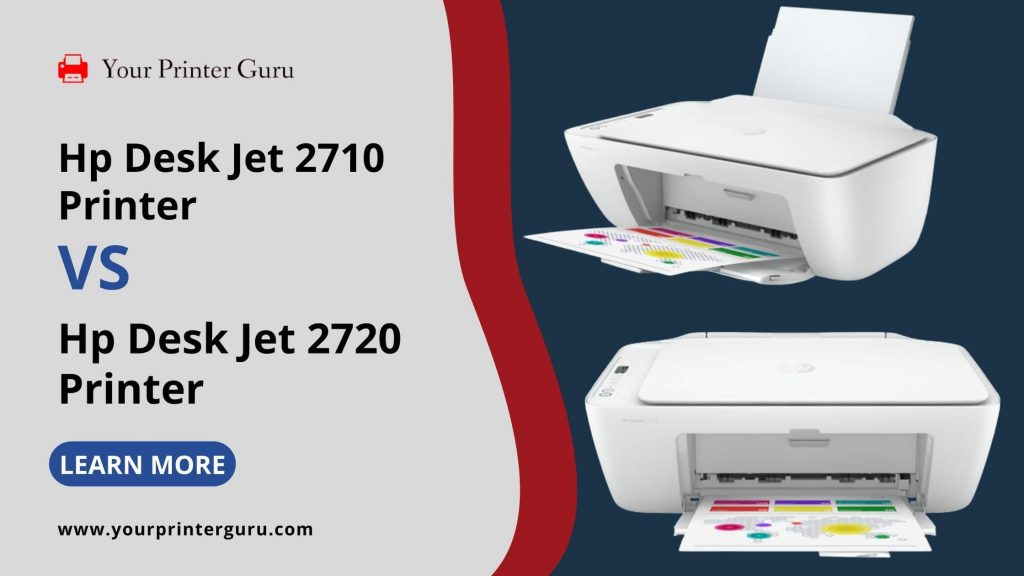 Design and build quality
The most interesting fact about the two Hp printers is that they are identically the same. Hp desk jet 2710 and Hp desk jet are compact in size and design. Although Hp desk jet 2710 and Hp Desk jet 2720 have almost the same specifications and features to watch precisely, the colors of the two printers are a bit different. The Hp desk jet 2710 has a full white body, while the Hp desk jet 2720 has a grey panel. Both have an LCD with a good processor.
They both have a flatbed scanner but no auto document feeder. The setup process is quite smooth and hassle-free in both printers. These Hp Desk jet 2700 range of inkjet all-in-one printers are genuinely made for home and office use. Inkjet printers are a good all-rounder. Both of the printers have the facility of print copy scan and fax. Also, they have an access to Wi-Fi, USB, and HP App access which makes them extremely user-friendly.
Printing speed and quality
Hp ensures the quality and speed of printing with accuracy. Both the printers do the work with due respect. The Hp DeskJet 2710 has extremely good printing facilities. The thermal inkjet printing makes photos super exciting and lovely. The printing speed of this printer is 7.5 ppm( black) and 5.5ppm(color).
It can print up to1200×1200 with its max quality( black) and 4800×1200 max quality of color documents. Both the printers don't have the feature of borderless printing. The Hp Deskjet 2720 also prints stunningly with decent speed and accuracy. The max quality of printing resolution and Printing speed is the same as the Hp Deskjet 2710.
Scanning and copying
Scanning and copying documents have always been crucial work for all-in-one printers. The Hp Desk jet 2710 and 2720 are almost the same in all the specifications with slight differences. The Hp Desk jet 2710 and Hp desk jet 2720 have a flatbed scanner that can scan up to1200 DPI. The scan file format can be JPG, TIFF, PDF, PNG, etc.
The scanning quality makes a printer more acceptable in every aspect. Both the printers take very less time to scan photos i.e. like 20 seconds approx. Hp 2710 can copy up to 6 ppm but HP 2720 can copy up to 9 ppm with a resolution of 300×300 DPI.
Printing cost and page yields
How cheap or expensive a printer is depends on the cost of the print per page. The HP original ink cartridges create a sharp text color and make the colors more vibrant. Both the printers have great page yields and quite a cheap cost per print.
The more you print the more you will save. Inkjet printers are comparatively high in price in the case of printing but by buying the HP smart INK you will save up to 70% ink. Selecting a good plan for you will help you with further ink purchasing. Both the printers have great page yields up to 1000 pages.
Connectivity features
Hp printers are designed to keep users connected. Both the printers are stunningly great in their connectivity purposes. Hp Desk jet 2710 and Hp deskj2720 have dual-band Wi-Fi, built-in Wi-Fi, Bluetooth, high-speed USB 2.0, and wireless connectivity.
It also enables better faster and more reliable connections with HP smart app one can easily get access to all the functions of printers like scanning documents, photos, Printing, and sharing from your smartphone. Both the printers support Apple air print, Morphia, and ChromeOS.
Conclusion– Hp desk jet 2710 Vs 2720
Both HP Deskjet 2710 and hp Deskjet 2720 proves to be a great choice for serving the basic needs of home and small offices for their easy setup, space-friendly design, good connectivity, and built wireless network are great as per their price range .it is difficult to find the difference between them as The two printers are very much similar in all the aspects except the color they have.
The HP Deskjet 2710 comes with a white body but the HP Deskjet 2720 comes with a grey interface, which seems to be the only difference between them. otherwise, both the Hp Deskjet 2710 and hp Deskjet 2720 are worth their penny.