Canon Selphy 1500 vs 1300- Canon Selphy printers are the popular series of photo printers that can create photos with due accuracy. These instant photo printers are not only compact and light weight but also very easy to use. They are equipped with high quality printing and decent connectivity options which will raise the quality of the printer. Today in this article we are going to discuss the pros and cons of the two Canon printers, Canon Selphy CP 1300 and 1500. So let's get into it.
Difference between Canon Selphy CP 1300 and 1500
Though the Canon Selphy CP1500 is the upgraded version of the Canon Selphy CP1300 they have many similarities and dissimilarities too. The Canon Selphy CP1500 has a large display screen than that the Canon Selphy CP1300. However, the Canon CP 1500 is bit light in weight and more compact than the Canon CP1300 and it also has a better printing speed as compared to the other one.
Check-
Canon Selphy CP 1300 Offer Price
Canon Selphy 1500 vs 1300 Detailed Comparison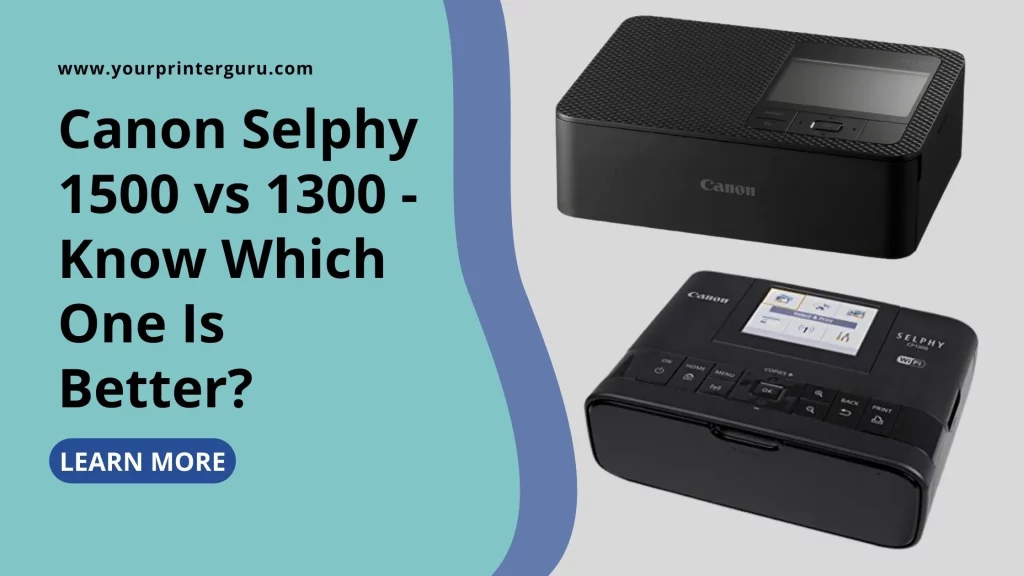 Design and Build Quality
When it comes to design and build quality, the Canon portable printers are really great in this aspect. Both the printers have big LCD color displays, though the Canon Selphy CP 1500 has a bit large screen (3.5 inches) as compared to the Canon Selphy CP 1300( 3.2 inches). Though the screen is large it has lack functioning and it's not a touch screen. The build quality is very good and the operating buttons are also well-performed and the sleek body feels so smooth.
The Canon Selphy CP1300 has a slot for all the dye sub cartridges on the side of the printer but the input tray is quite bigger and upgraded than that of the Canon Selphy CP1500. Both printers deliver superb photo quality along with nice colors. The Canon Selphy CP1500 here comes in solid black, pink, or white options which look really smart and appealing. It is highly capable of all the mobile printings and the best thing is that you don't need to worry about the ink mess.
Printing Quality
Both the Canon photo printers are compatible with premium quality photo printings within pocket-friendly costs. The Canon Selphy CP1300 and CP1500 come with 6×4 inch standard postcard printing with various media options. There are three inks in the Canon Selphy CP1500 and the dye sublimation process is used for printing just as the Canon Selphy CP1300 uses and they have almost the same kind of printing quality as the other.
The tonal ranges, the color rendition, and the clarity are much better and rich in both portrait and landscape photo colors. These photo printers can't be compared to inkjet printers as the color dyes may be visible on top of each other but in the case of inkjet printers, the droplets of various inks will be placed adjacently. Both printer has a max printing resolution of 300×300 DPI which is pretty decent for producing a high definitional photo print. Especially the Canon CP1300 can make collage photos from up to 8 individual devices which can combine more than one photo in a single frame.
In the case of printing speed and costs, both of the printers are quite good at this. The Canon CP1500 has a good printing speed, can create a 6×4 inch photo in almost 40 seconds and a credit card-shaped print takes 23 seconds to print. Whereas the Canon CP1300 has a 6×4 print in 47 seconds which is a bit slower than the other. Fortunately, the printing costs are affordable i.e. they take around £0.32 to £0.34 per 6×4 inch photo printing. Also, both printers have good page yields of approx 54 prints per ink cartridge.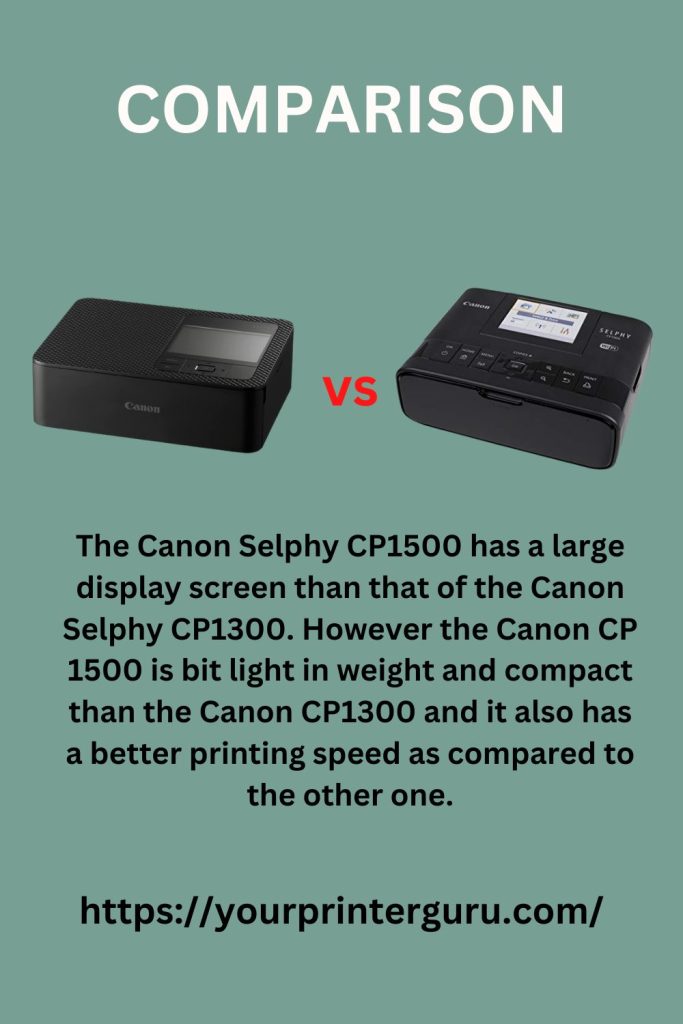 Connectivity Features
Connectivity has a significant role in making a printer more user-friendly. The Canon Selphy CP1500 can print without a laptop or computer and via Wi-Fi direct with cell phones or cameras as well. In the case of Canon CP1300 the SD/SDHC slots are retained for printing from memory cards and the Wi-Fi and Wi-Fi direct are also supported.
But sadly the Canon CP1500 doesn't have Bluetooth functions, though it works pretty well with mobile phones and cameras. They are compatible with both Android and iOS devices and the Canon printing app helps a lot to print flawlessly.
Also Check- Canon Selphy CP1200 vs CP1300 Comparison
Conclusion
Canon Photo printers are lightweight and compact. The Canon Selphy CP1300 and CP1500 are two great printers with stunning printing quality and decent connectivity. Although they have many similarities in design and printing quality they also have some differences too. All-over it can be said that both the printers are very much worthy in their price and printings.