Canon GX6021 Vs GX7021- Canon All in-one printer is the most trendy printer nowadays. The Multi functioned printers are literally beasts with scanning, printing, and copying capabilities. The Canon GX6021 and GX7021 are the two most demanding in-one printer with decent-quality printing and connectivity features. In this article, we will be discussing the build quality, printing qualities, per page printing costs, etc. of these two aforesaid printers and will try to analyze which of them has the upper hand to surpass the other one. So let's begin.
Difference between Canon GX6021 and GX7021
Canon GX7021 is more costly than the other, the GX7021 supports duplex scanning but the GX6021 doesn't, the GX7021 has 3 input tray capacity of 600 pages but the GX6021 has 2 input capacity of 350 pages. The GX7021 is equipped with faxing facility which GX6021 lacks. Both printers have nice printing quality along with connectivity options.
Canon GX6021 Vs GX7021 Specs Comparison
FACILITIES
Canon GX6021
CANON GX7021
Functionality
Print, Scan, Copy
Print, Scan, Copy, Fax
Printing Resolution
1200 x 600 dpi
1200 x 600 dpi
Printing Speed
24 ipm (Black)
15.5 ipm (Color)
24 ipm (Black)
15.5 ipm (Color)
Printing Technology
Inkjet
Inkjet
Duty Cycle
45,000 Pages
45,000 Pages
Scanner Type
Flatbed with Automatic Document Feeder (ADF)
Flatbed with Automatic Document Feeder (ADF)
Scanning Resolution
1200 x 1200 dpi
1200 x 1200 dpi
Duplex Printing
Not available
Available
Maximum Number of Copies
Up to 99 Copies
Up to 99 Copies
Fax Memory
Not Applicable
250 Pages
Connectivity
Micro-USB, RJ45, WiFi
Micro-USB, RJ45, WiFi
OS Compatibility
Android
Windows
iOS
macOS
Android
Windows
iOS
macOS
Disply Type
Touchscreen LCD
Touchscreen LCD
Display Size
2.7″
2.7″
Single Pass Duplex
Not Specified
Yes
Canon GX6021 Vs GX7021 Detailed Comparison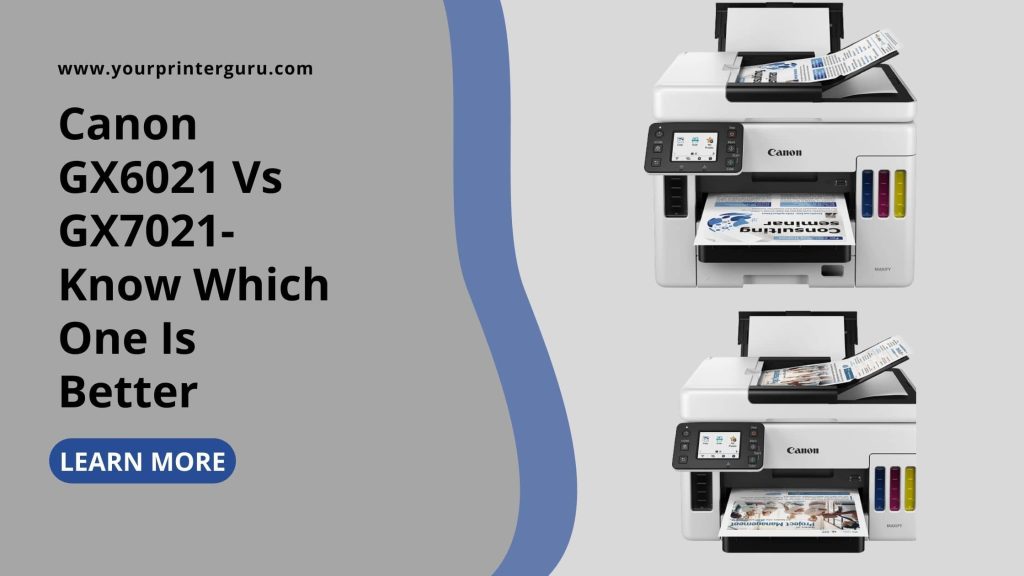 Design and Build Quality
Both the Canon printers come with 2.7 inch color touchscreen display. The printers are packed with features and designed small to fit in places. Although the Canon GX7021 comes with 3 input trays consists of 600 sheets, on the other hand the Canon GX6021 comes with 2 input trays of 350 sheets. Also the Canon GX7021 is equipped with Faxing facility which Canon GX6021 lacks. Both the printers consumes less electricity and costs much low in printing pages. They have high yield ink bottles which keeps the waste and helps to minimize the cost of ink.
Printing Quality and Speed
In terms of printing quality, the Canon GX6021 and GX7021 are splendid with their four individual cartridges which consists high yielding inks. The printers have sharp highlighter resistant ink which makes the prints more vibrant and noticeable. The Canon GX6021 can print on a wide variety upto 47" in length which is really amazing. The color accuracy is also crisp and the black and white documents prints more quickly than the others. Both the printers have almost same speed of printing i.e. 24ppm (black and white) and 15.5 ppm (color).
Scanning and Copying
Scanning and copying are the two most integral part of a printing machine which develops the productivity and enhances the output. The Canon GX6021 and GX7021 are equipped with Auto document feeder and flatbed scanning facilities. Both of them have 50 sheet ADF scanning along with CIS scanning technology. The Canon GX7021 has duplex scanning and single pass duplex which helps to scan both side documents easily, which Canon GX6021 lacks. Also the Canon GX7021 has faxing facility of 250 pages which Canon GX6021 doesn't have. Both the printers have decent scanning speed along with quality.
Printing Costs and Page Yields
When it comes to printing costs , Canon always preforms great in this matter. Canon Inkjet printers are great in page yields and cost effective in per page print. Both the printers have four individual high yielding cartridge to yields more and more pages with less ink. Both of them have a monthly duty cycle of 45000 pages which is really great. The Canon GX7021 and the GX6021 yields about14000 color prints and 6000 black prints with really low cost per print of approx lower than 2 cents per page print .
Connectivity Features
There are many ways to connect with these two all in one printers and this connecting capability makes the Canon printers more acceptable and user friendly. The Canon GX7021 and GX6021 comes with easy and quick Wi-Fi set up , Ethernet, USB etc. It can be reach through the Canon Print app , which can help to check the ink levels, task statusand Apple Airptint and Morphia can also be used.
Conclusion– Canon GX6021 vs GX7021
Canon inkjet printers are great in its printing quality and costing. Both the Canon printers are worthy enough to their price range. They are furnished with all the profitable qualities along with decent connectivity and design. It can be seen throughout the article that, the Canon GX7021 is much better than the Canon GX6021 as it has better page capacity, duplex scanning , faxing capability etc.
References-
https://www.usa.canon.com/shop/p/maxify-gx6021
https://www.usa.canon.com/shop/p/maxify-gx7021?color=Black&type=New